Compete with the CFPB for Complaints...It's Good Business!
Posted by
Andy Barksdale
on Jun 29, 2016 12:22:11 PM
The CFPB is actively working to gather consumer complaints - are you competing for access to those complaints from your consumers? You should be. In this post, we'll share some observations about the recently released Consumer Response Annual Report, insights about complaints policies learned from working with our clients, why to compete for complaints and how to start.
Earlier this year, the Consumer Financial Protection Bureau (CFPB) released their 2015 Consumer Response Annual Report, which investigates consumer complaint activity from 2015 and explores how they're responding to those complaints.
If a consumer experiences a perceived problem, they may decide to: take no action, complain privately, complain directly, complain publicly or complain to a third party (like the CFPB). The CFPB is actively soliciting complaints. So why should you compete with the CFPB for access to those complaints?
Here's the short answer: it's good business.
Below, we'll outline some hot spots related to complaint management, more information about exactly why it's good business to compete for complaints, and how to do it.
The Consumer Complaint Management Hot Spots
As of March 2016, the CFPB has handled 834,000 consumer complaints, some with public narratives included. They accept complaints about financial products and services, including mortgages, credit cards, auto loans, student loans, debt collection, credit reporting, payday loans, consumer loans, and more.
The recent Consumer Response Annual Report helps to highlight several "hot spots" for our industry. The 2015 hot spots, based on complaint volume, include the following:
Debt Collection (31%)
Credit Reporting (20%)
Mortgage (19%)
The remaining complaints relate to: Bank Account or Services (8%), Credit Card (8%), Consumer Loan (5%), Student Loan (3%), Payday Loan (2%), Prepaid (1%), and Money Transfer and Other (1.6%).
By reviewing the list above, it is clear that some products and services tend to have a higher instance of complaint (debt collection always lands at the top of this list). Here are some other observations:
The Bureau accepts complaints via telephone, mail, email, fax, and referral. Seventy one percent of all consumer complaints were submitted through the CFPB's website and 7 percent via telephone calls. Referrals accounted for 12 percent of all complaints handled by the CFPB.
The CFPB states that complaint volume was up 8 percent in 2015 (250,700 complaints in 2014 vs. 271,600 in 2015). The increase is not surprising to those who have been watching the industry activity, as the CFPB has been aggressively marketing it's desire to capture all complaints, and volumes have increased year-over-year.
Why Compete for Complaints?
The Bureau is actively soliciting consumer complaints. When you search the word "complaint," the CFPB will show up on the first page of the Google search engine results. Search "CFPB" and you will see that "Submit a complaint" is front and center on the Bureau's initial results. Go to the CFPB's home page, and you will see that "Submit a Complaint" is a lead action item.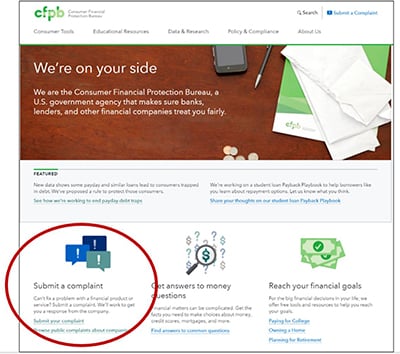 Competing with the CFPB for complaints is good business. Why? Complaints serve as a primary regulatory trip wire for financial institutions. Gathering and managing complaints can help you respond to those comments and serve customers directly, without regulator oversight.
Beyond the compliance and regulatory concerns, complaints should be viewed as an opportunity. Embracing feedback will allow you to hear from clients you may lose because they did not share their opinion. Whether expressed or silent, complaints can also erode your brand if not properly addressed.
In today's interactive, technology-centric world, encouraging client feedback (including inquiries and complaints from all mediums) will provide management great insights into the day-to-day operations that may be missed. The result will be a stronger brand, more loyal clients and a compliant organization.
In our experience, many financial institutions do a great job of providing positive, fair and consistent client experiences. That said, making sure that you're the first place your consumers turn if and when they have a less-than-perfect experience is still a good business practice.
[Free Download: 7 FAQs About the CFPB's Public Complaint Database]
How to Attract, Collect and Manage Consumer Complaints
When working to create, manage and improve an effective consumer complaint management program, every financial institution should do the following:
1. Maintain an Aggressive Client Feedback Program: Financial institutions following best practices make it easy for customers to submit feedback (including complaints). In addition, management encourages a proactive culture of soliciting the feedback. With the CFPB aggressively seeking complaints from your clients via internet, phone, fax, mail and email, financial institutions should have a similar, if not more aggressive, strategy.
2. Maintain A Solid Complaint Management Program: Financial institutions following best practices provide team members clarity on how to proceed with inquiries and complaints. Here are a few components to consider that blur the lines between compliance, marketing, and customer service:
Complaint Policy, including the definition of complaint vs. inquiry.
Procedures for Managing Complaints, including logging, assigning ownership, tracking response, define required response times to response, promote independent review or management, classify types of complaints with escalation topics, recording resolution.
Outline and Execute on the Acceptable Mediums for Receiving Complaints, including internet, phone calls, fax, and potentially social media.
Employee Training, which reviews policies, procedures, tools, ownership.
Employee Reinforcement, which celebrates embracing feedback and responses.
Easy-to-Use Documentation and Tracking Process, because if it's not easy, it won't be used.
Management Reporting, Review and Involvement, which includes a summary and optics.
[Read Also: Consumer Complaint Management Best Practices]
Key Questions to Consider
When working with customers and colleagues, we hear many different perspectives regarding complaint management. We have listed a few of them below. In order to promote best practices, we have also included the "Next Question" that we at TRUPOINT will use to encourage the right dialogue.
Financial Institution: "We do not get complaints."

Next Question: What is your definition of a complaint? How do you delineate between an inquiry and a complaint? Do your employees understand the differences? Are you formally tracking complaints, even if resolved?

Financial Institution

: "Our front line does a good job of resolving any issues when they are brought to our attention."

Next Question: How is management getting optics into these issues?

Financial Institution: "We have a written complaint policy."

Next Question: What is your escalation process for complaints that my indicate a Fair Lending issue or potential discrimination concern?

Financial Institution: "In order to be considered a true complaint, we require a complaint to be in writing."

Next Question: Why is that a requirement?

Financial Institution: "Our institution embraces complaints."

Next Question: The CFPB is willing to take a broader view of accepting complaints (internet, phone, fax, email, etc.). The CFPB understands that a customer is willing to submit a complaint when the perceived effort required is considered minimal. What communication mediums are you currently employing in order to receive all concerns?
Get the insights you need by downloading our guide on Building a Strong Lending Compliance Management System.
Topics: Fair Lending, Banks, Lending Compliance, Nfairlending, Product Insight, Credit Unions, Compliance, Lending Compliance Management,