nfindings
Exam & Audit Findings Management Software
Automate complex findings processes, gain immediate insights into exam and audit findings, and drive immediate action to maintain regulatory compliance and operational excellence.
Issue management software trusted by thousands of financial institutions across the country


Our Solution
Empower Timely
Decision-Making with Audit Findings Software
Access and manage findings from internal and external sources in real-time, so you have what you need when you need it.
Real-Time Findings Management
Instantly access and manage findings from internal and external sources, empowering timely decision-making.
Streamlined Mitigation Automation
Use our audit findings software to automate and evaluate findings mitigation efforts throughout your business ensuring that all 3 lines of defense are operating in sync.
Enhanced Governance, Eliminating Issues
Drive consistency and proactive risk management by analyzing and reporting findings to eliminate repeat occurrences.
Langley FCU Manages Findings Effectively (and in Less Time) with Nfindings
Read about how Ncontracts helped this bank find the tools to help their team succeed.
Get Our Free Guide
Best Practices for Tracking Audit & Exam Findings
Download this whitepaper for insights into:
Best practices for effective findings management
Strategies for minimizing the number of findings
How to leverage findings as a risk management tool
The relationship between findings and audits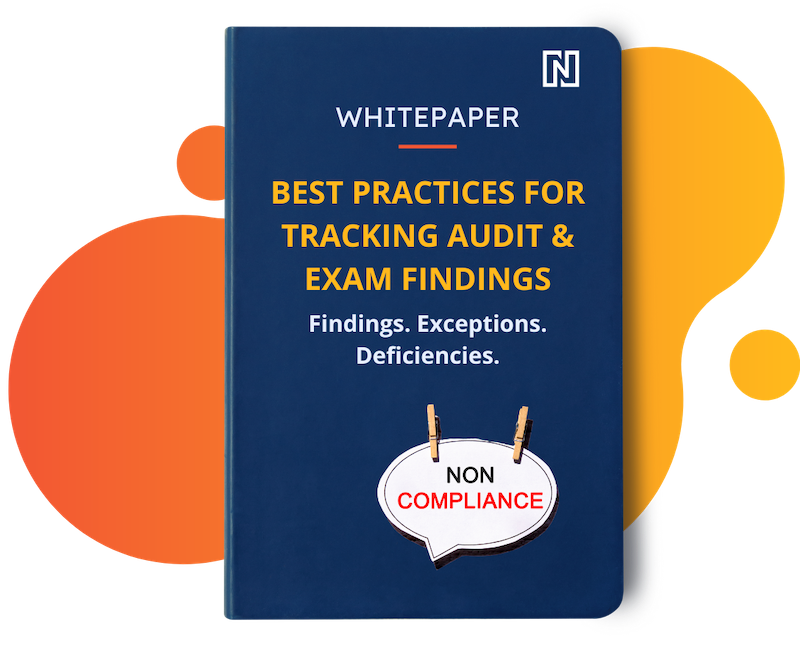 Nfindings FEATURES
Powerful audit and exam findings software to stay in control
With Nfindings, you gain access to premium features and tools like:
Nfindings
Centralized Tracking
Consolidate findings from any source in our audit tracking software for easy management, attention, and tracking.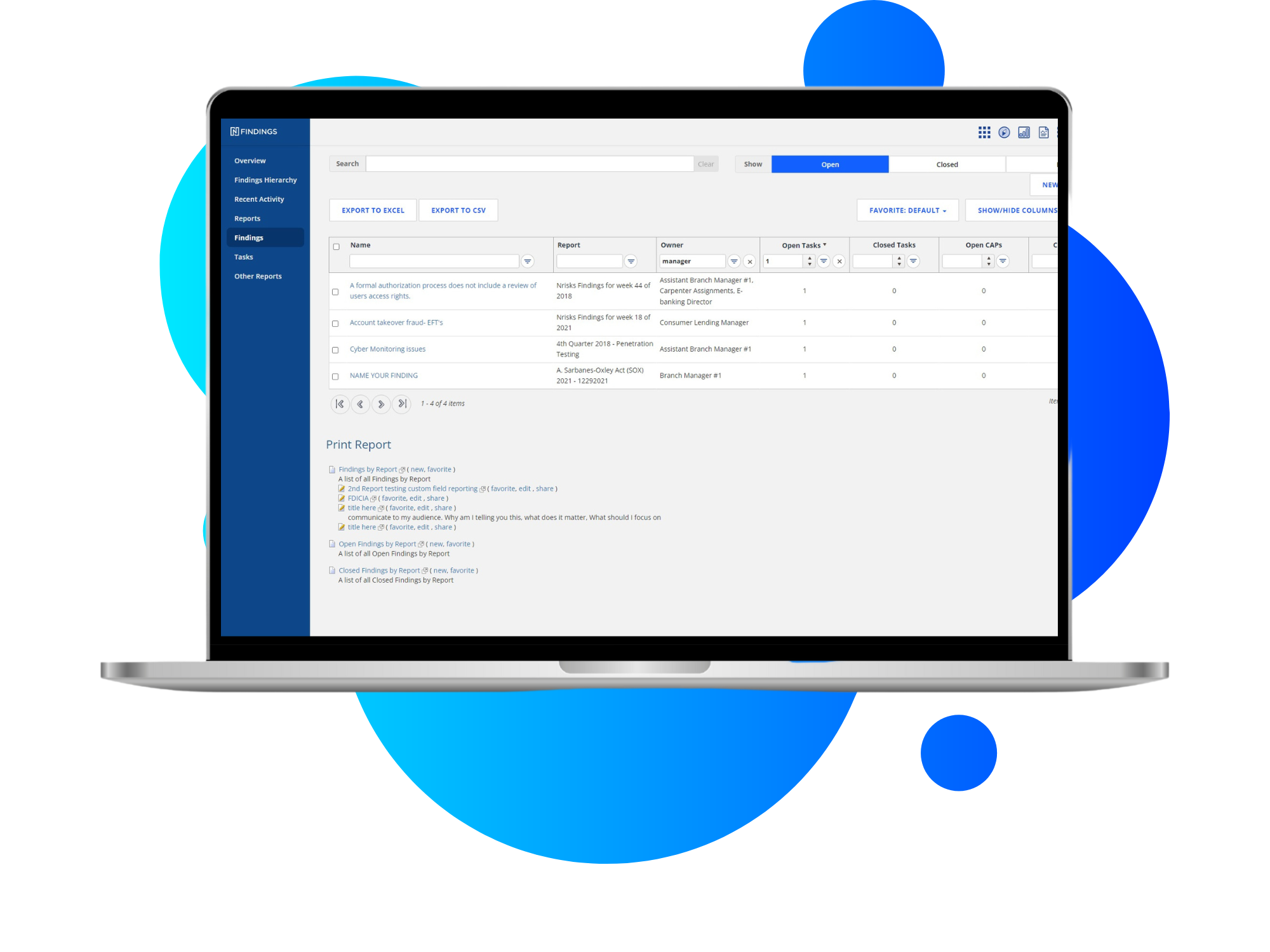 NFindings
Effortless Task Management
Assign and monitor remediation tasks regardless of their origin, boosting team collaboration and productivity.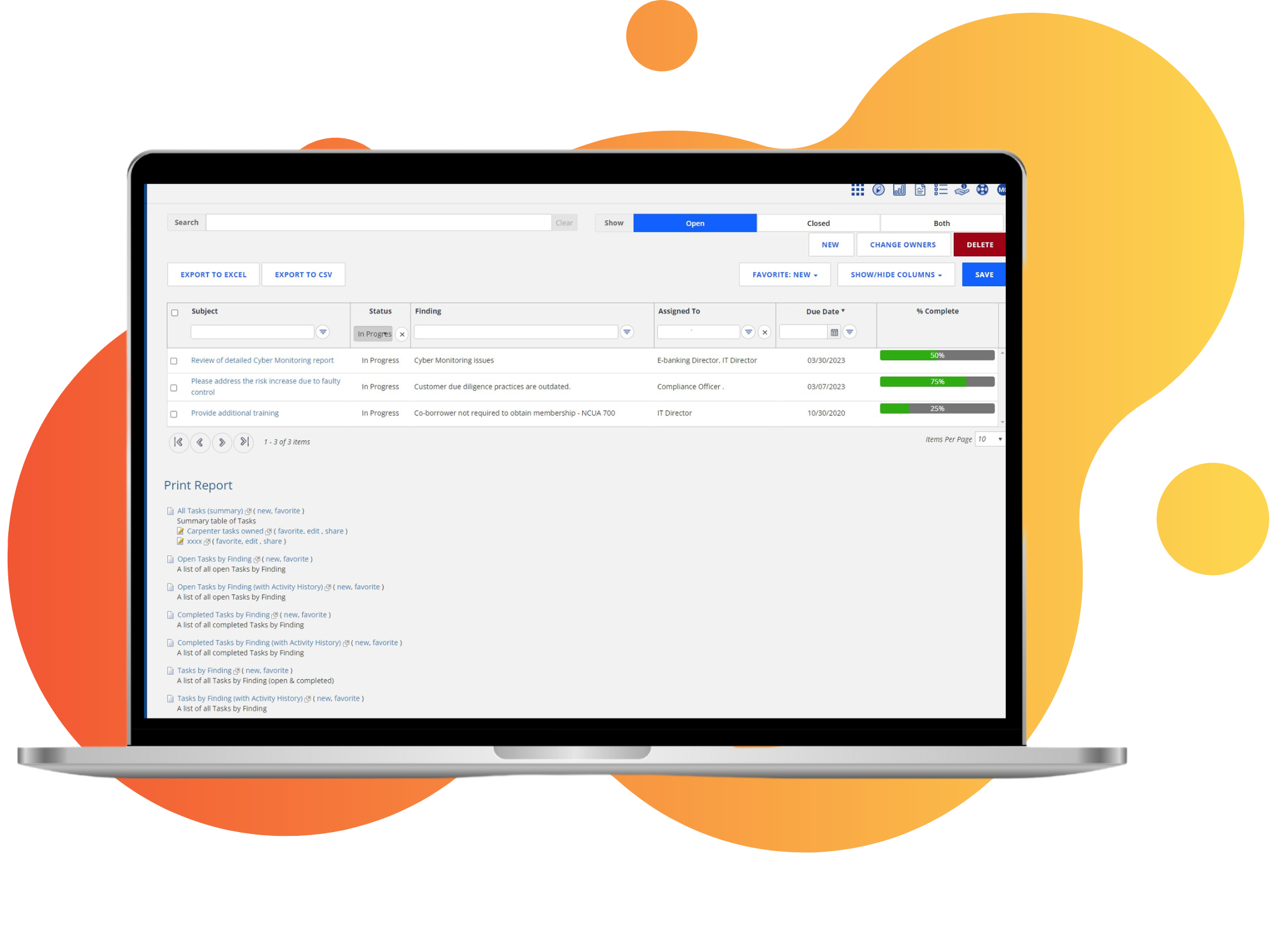 Nfindings
Interactive Dashboards & Reports
Real-time insights on remediation activities, keeping stakeholders informed, and enabling data-driven decisions in our issue management tool.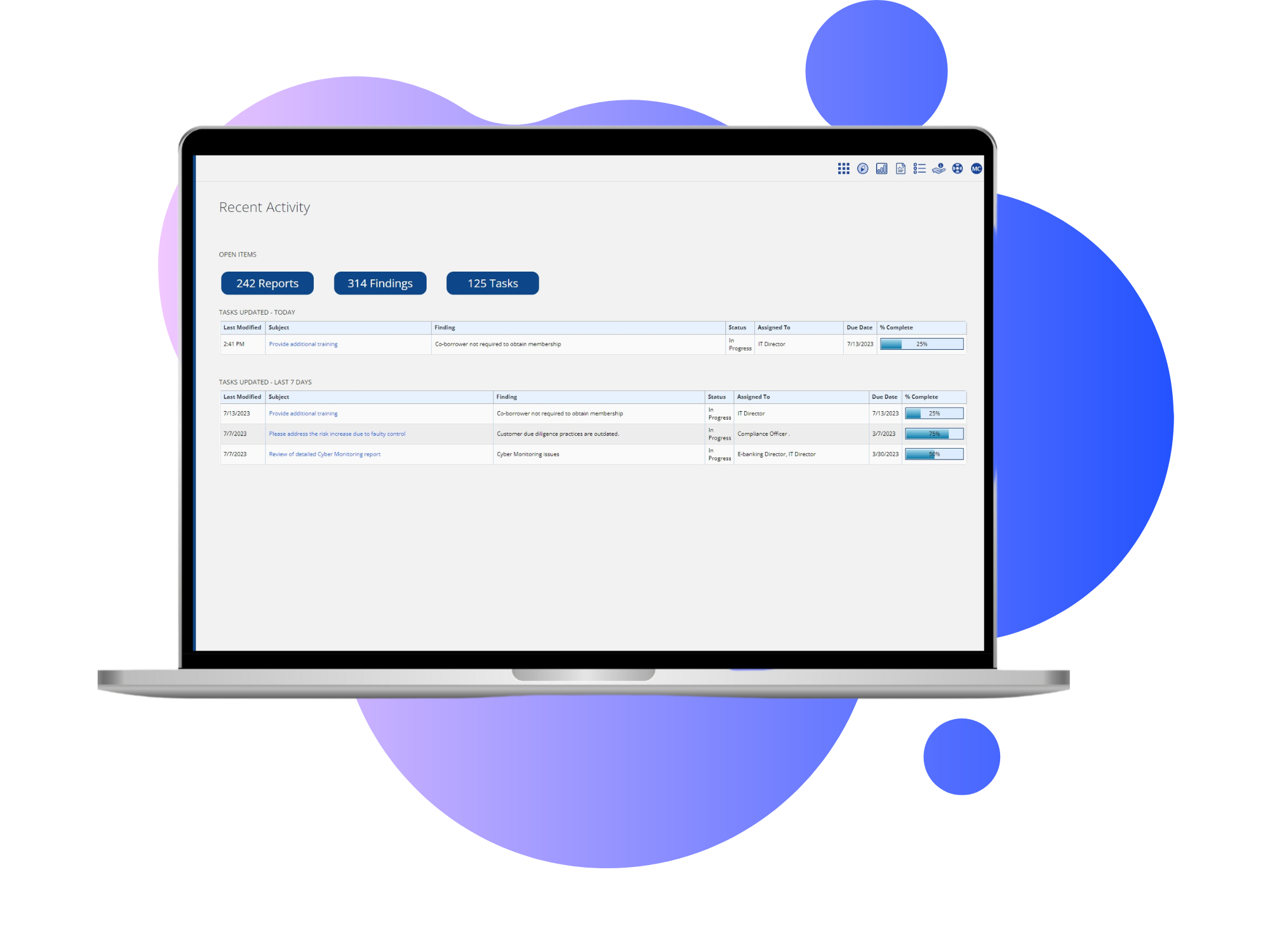 nfindings
Comprehensive Integrations
Unify findings management across vendors, internal controls, compliance, and audits, empowering streamlined operations.
Nvendor – Track findings related to specific vendors
Nrisk – Track findings of internal control issues
Ncomply – Track regulatory and/or compliance related findings
Nverify – Track findings identified through internal audit activities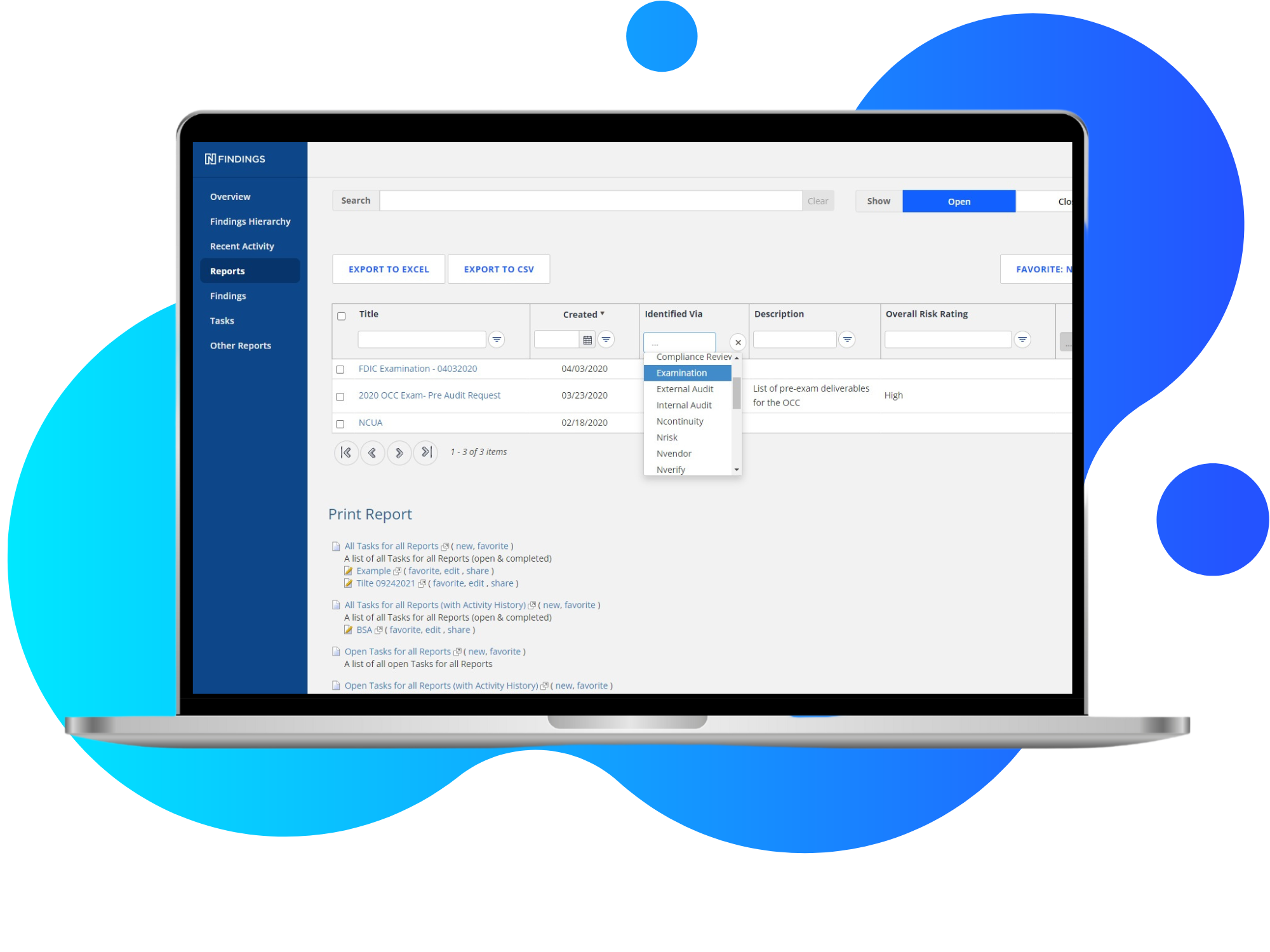 "We've been through three exam cycles and have not had one exam finding or recommendation on my third-party vendor management. This week the CEO asked when a contract expired. I had easy access to that and didn't have to go through the paper file looking for the original MSA.If they are going to be my advocate, I will be one for them as well. I'll talk up my Nvendorand be as happy as a clam and be an advocate."
"Now that we're in Nfindings, we just go in and pull a report; it's got all the issues that have recommendations, it has the management response, and the corrective action date."
"Being able to create all the reporting with the same data across the different modules within the Ncontracts suite makes the whole experience so much easier for me to administer and present to the board and executive leadership team."
"It's a lot better than having to remember to open a spreadsheet. Ncontracts actively tells you, 'Hey, this is coming up. It needs to be done.' You don't have to set reminders and remember it and find that spreadsheet."
Personalized Demo
Connect with a team of experts on the benefits of Nfindings. Help your financial institution streamline all the aspects of compliance, risk, and vendor management with ease.
Learn how Ncontracts helps Montecito Bank
Hold fewer meetings
See risk in real time
Ease exam prep
Minimize headcount
Simplify reporting
6 Features to Look for in a Findings Management Solution
Every financial institution has findings from exams and audits that need to be dealt with. The big question is: How do you ensure they are all effectively remediated?