ncomply
Compliance Management Software
Ncomply is the comprehensive compliance management solution designed for financial institutions. Try our compliance management solutions to navigate regulatory changes, boost your team's effectiveness, and consolidate all compliance tasks in one integrated platform.
Compliance management solutions trusted by thousands of financial institutions across the country


ncomply benefits
Efficient compliance management platform
With Ncomply, you'll never fall behind. Our commitment to relentless development means you'll always have the most advanced tools at your fingertips. You focus on managing compliance, while we ensure you stay ahead of the curve.
Stay Ahead with Regular Updates
Ncomply's daily regulatory updates ensure you're always equipped with accurate, relevant regulatory guidance.
Unlock Insights with Comprehensive Reporting
Establish an effective governance framework with Ncomply's comprehensive policy and change management tools.
Experience Streamlined Workflow
Ncomply maximizes efficiency with a smooth, controlled approach to compliance management.
Enjoy Exceptional Customer Service
With our compliance software, industry experts are just a click away. Enjoy top-tier customer service that's committed to your success.
"Without Ncomply, I'd still be dealing with meetings on regular basis"
Mark Hutchinson, Langley FCU VP of ERM and Internal Audit reduced compliance workload by 1/3
Ncomply FEATURES
Compliance regulations are constantly evolving.
Keep up with our compliance management software.
Ncomply consolidates much of the compliance management system functionality under one roof with comprehensive features.
NCOMPLY
Tailored Regulatory Updates
Say goodbye to the overwhelming sea of irrelevant regulations. Our compliance software sharpens your focus by delivering regulatory updates specifically tailored to your institution's size, products, services, regulator, and geography. This means your compliance team can invest their time and energy where it really matters.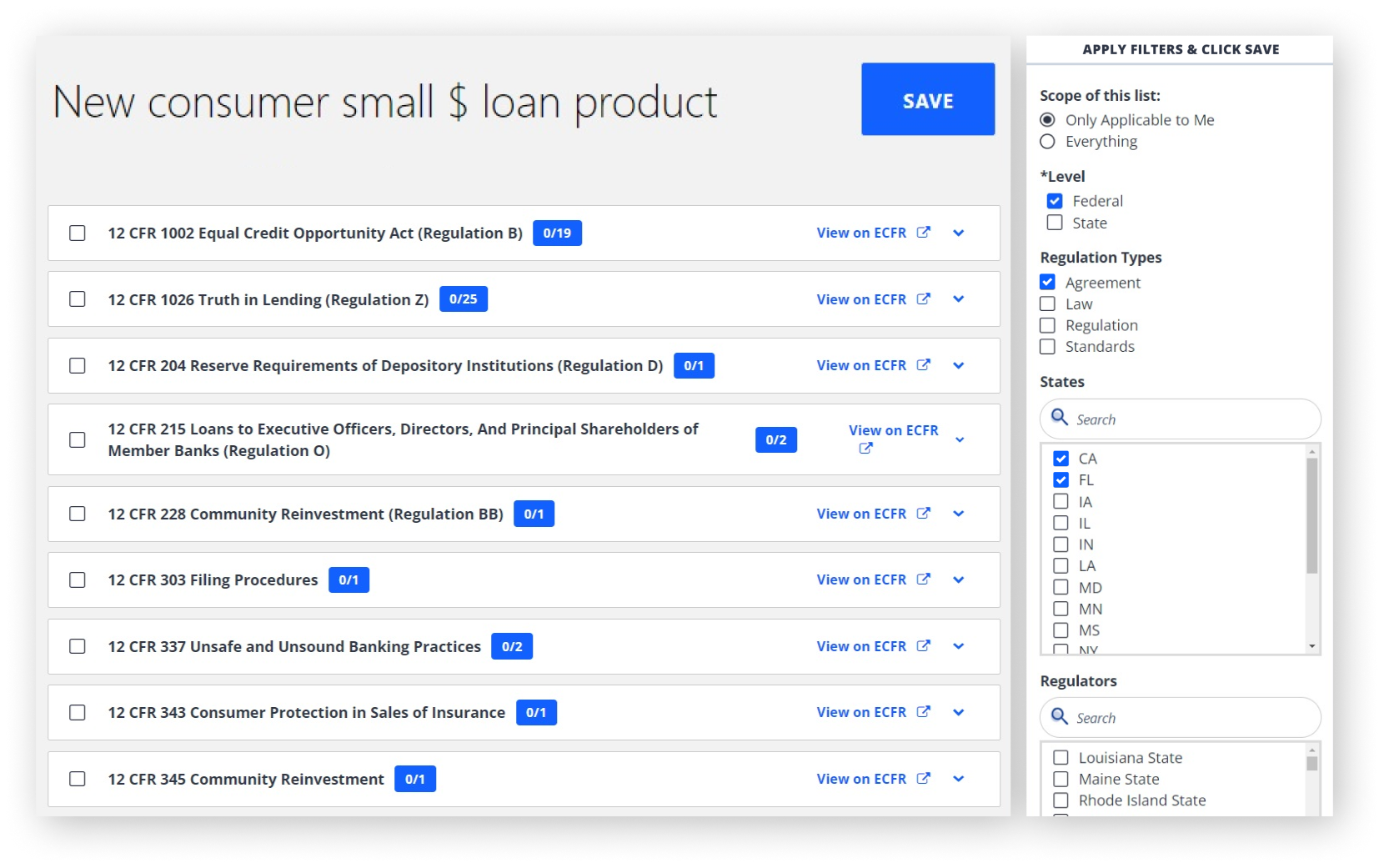 NCOMPLY
Effortless Requirements Builder
Take the guesswork out of compliance with our intuitive requirements builder. This compliance management platform empowers your compliance staff to easily pinpoint applicable regulations and construct customized compliance checklists. Transform complex compliance projects from days of work into mere minutes.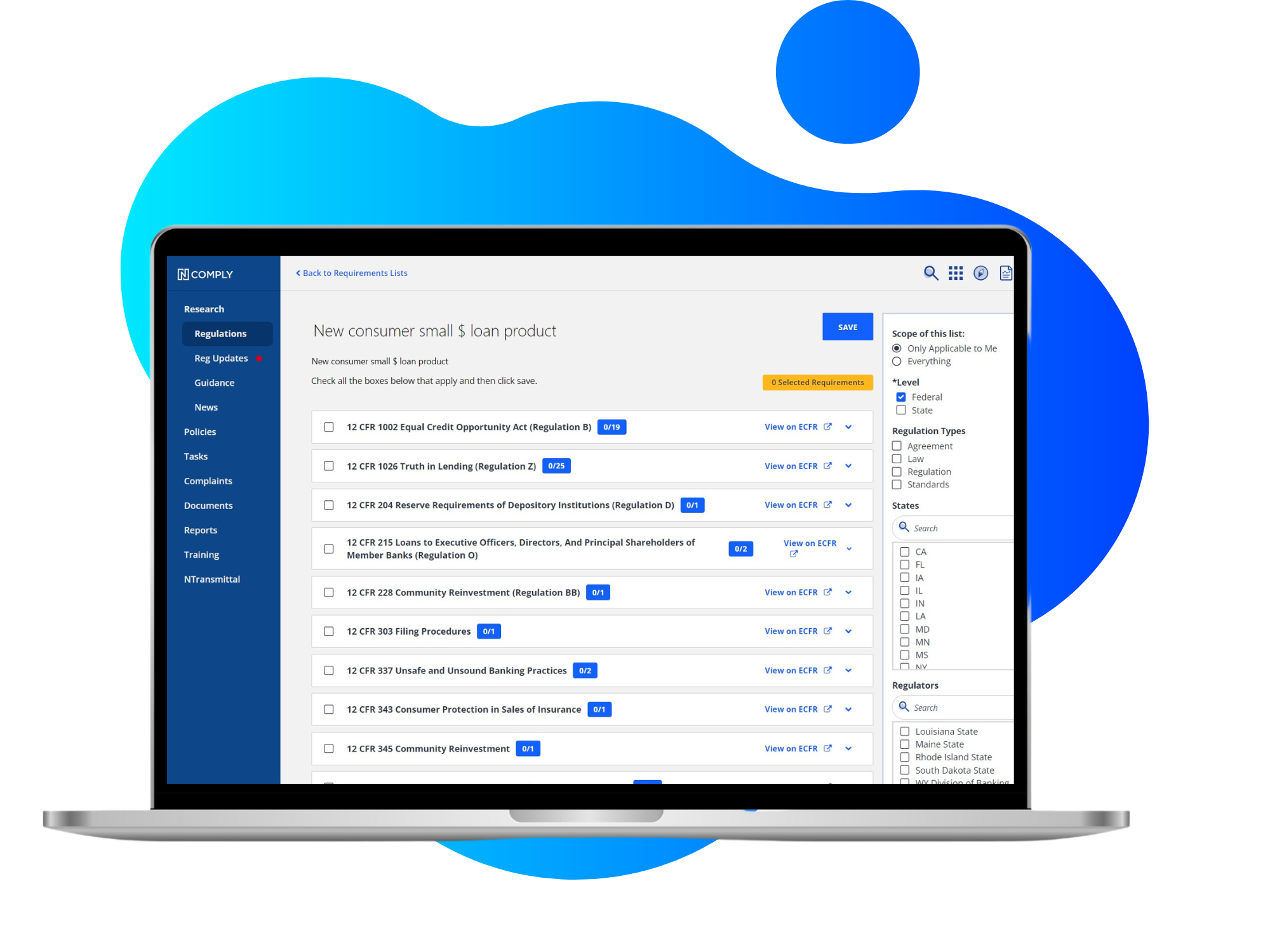 NCOMPLY
Streamlined Policy Management
Experience the simplicity of having a central hub for all your policies. With our compliance tracking software, you can house policies, conduct detailed reviews, track changes, and generate audit trail reports in one unified place.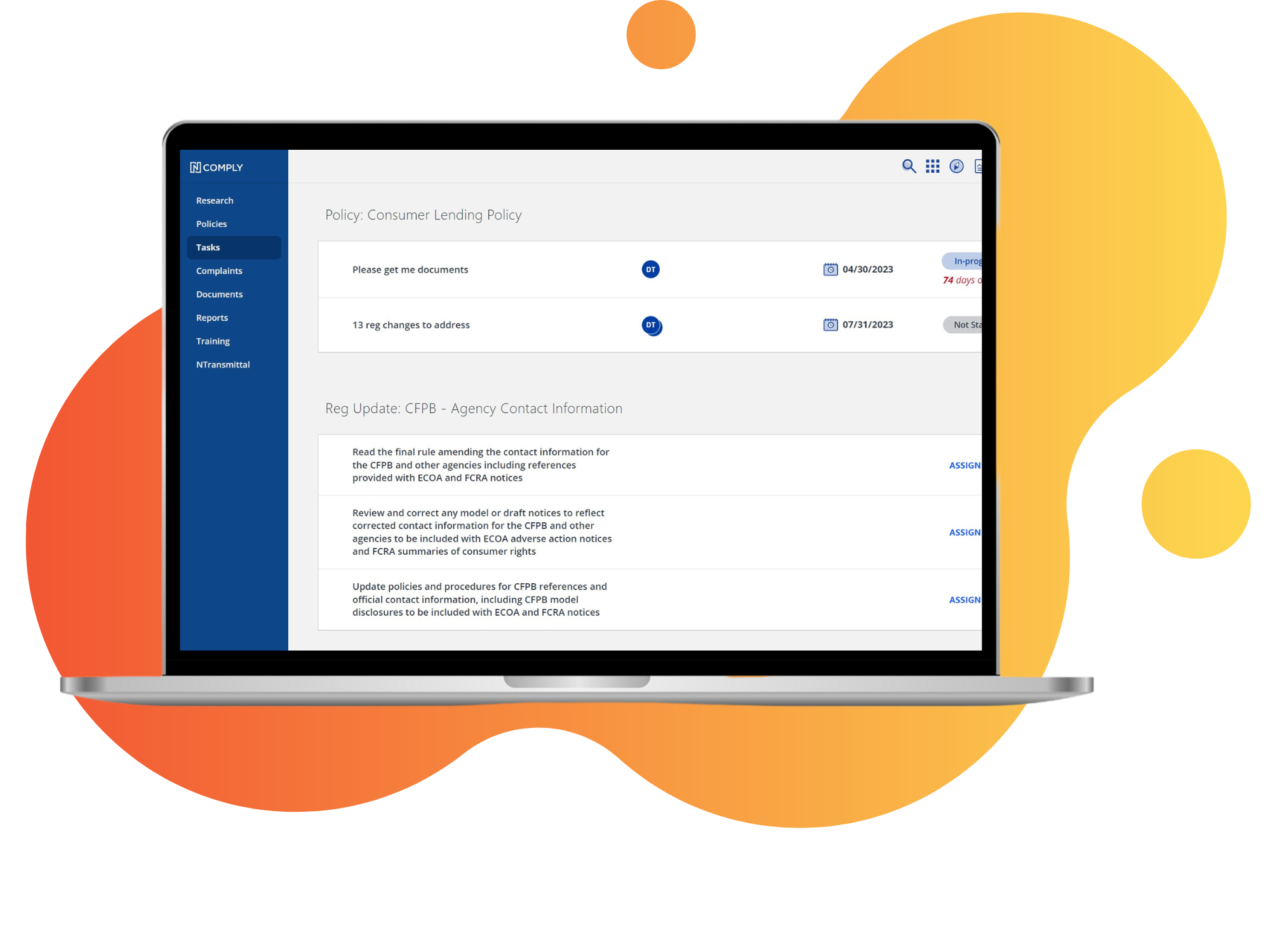 NCOMPLY
Integrated Complaint Management
Turn complaints into opportunities for improvement with our robust complaint management system. From intake to remediation, every step is automated and easy to track. Assign investigative tasks, log complaints, and generate comprehensive reports for auditors and examiners seamlessly.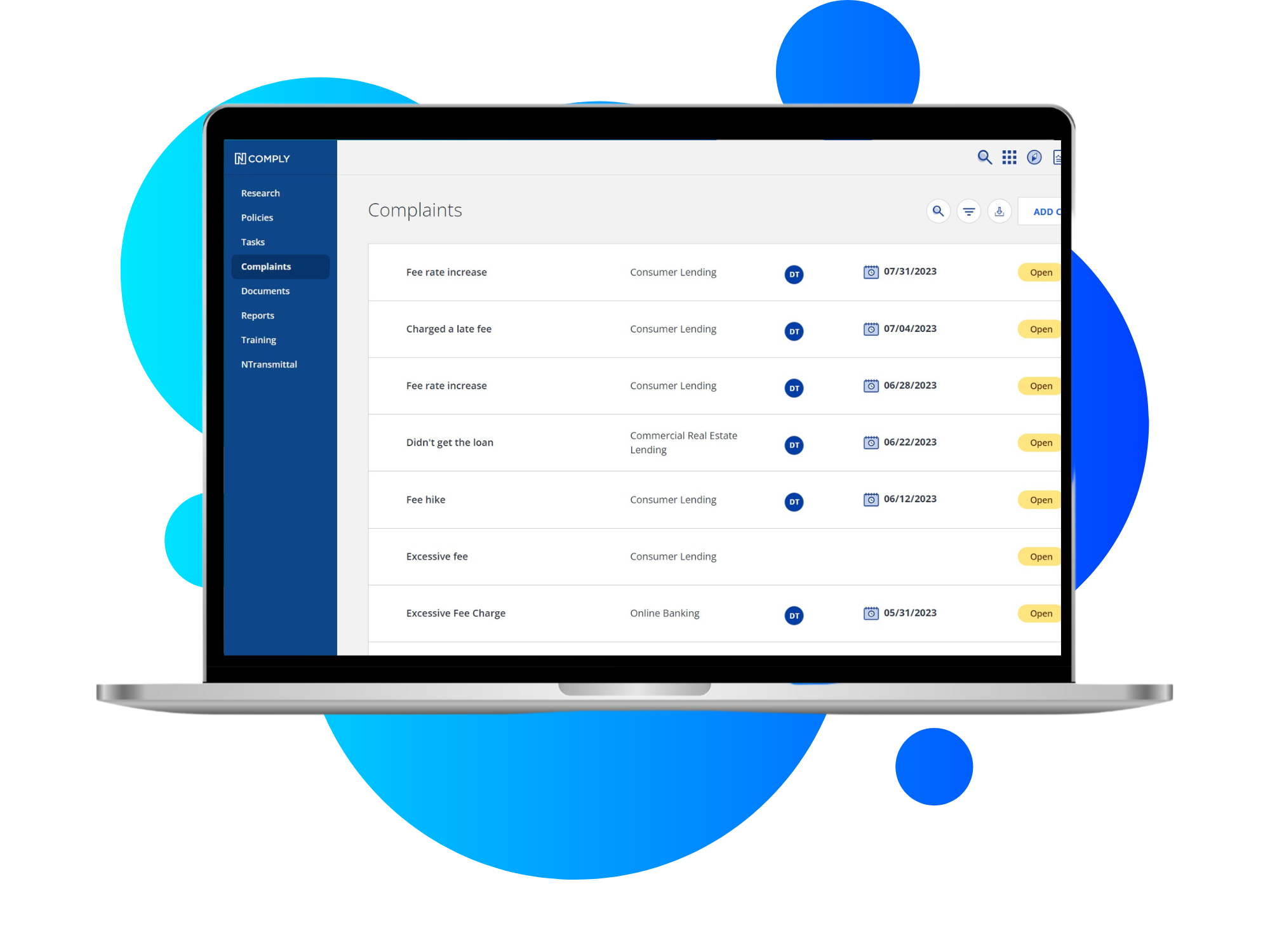 Collaborative Tools
Collaborative Tools
Proactive Change Management
Proactive Change Management
Seamless Integrations
Seamless Integrations
Get Our Free Buyer's Guide
Go to Your Happy Place for Compliance Management
In this compliance management buyer's guide, you'll discover the critical compliance management solution features that make these gains possible.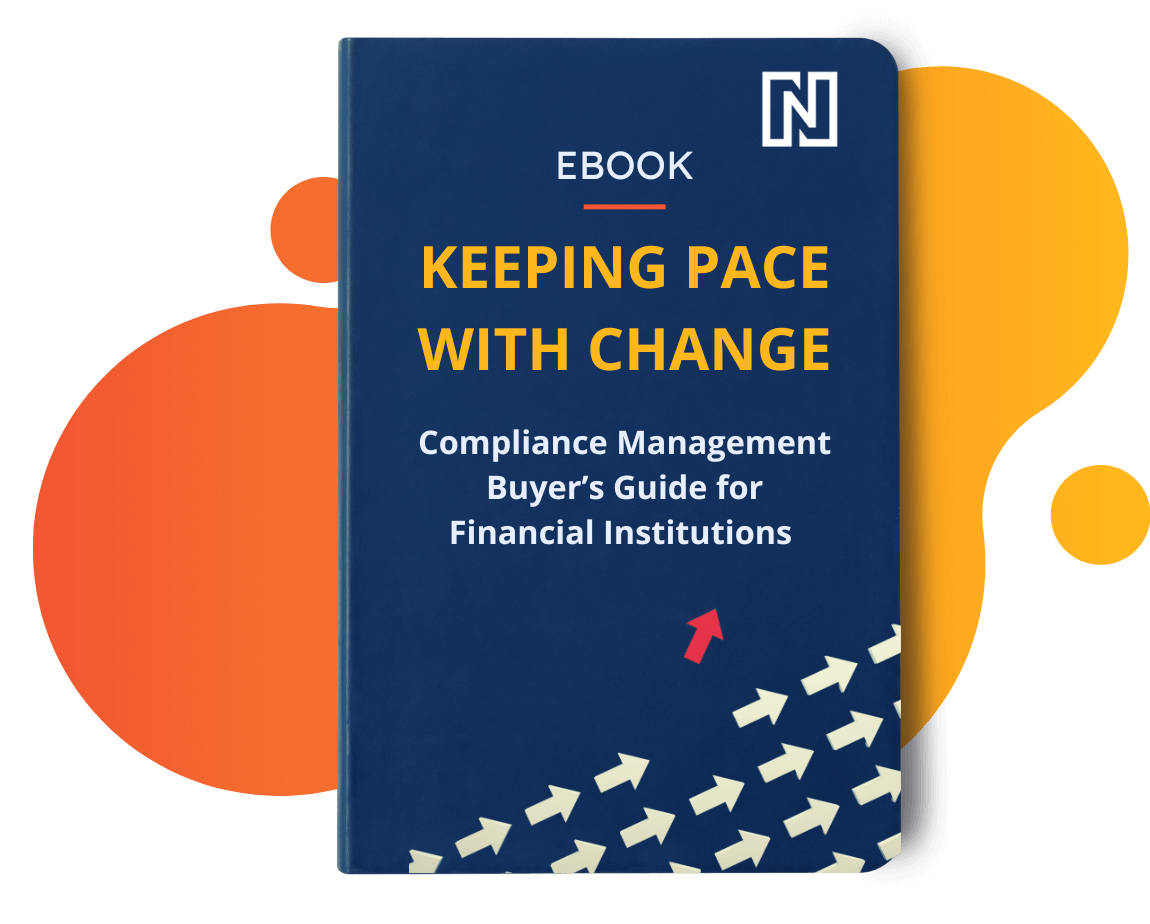 "Being able to create all the reporting with the same data across the different modules within the Ncontracts suite makes the whole experience so much easier for me to administer and present to the board and executive leadership team."
"My advice for financial institutions thinking about Ncontracts is to go ahead and do it. It's one of the best software that we have used, and it's all-encompassing. It gets all departments together on one system."
Personalized Compliance Tools Demo
Help your financial institution streamline all the aspects of compliance, risk, and vendor management with ease.
Navigating Change
A Comprehensive Guide to Effective Change Management in Financial Institutions
Langley FCU Cut Compliance Workload by a Third with Ncomply
VP of ERM and Internal Audit Mark Hutchinson realised that Langley FCU could now address faulty processes, not just individual complaints, thanks to Ncontracts' Ncomply.