nverify
Audit
Management Software
Empower your institution with our advanced auditing solution. Automate and integrate your audit process, ensuring strict compliance and identifying opportunities for optimization. Experience unmatched efficiency in risk reduction, time management, and cost savings with our internal audit management software. A game-changer for financial institutions.
Audit software solutions trusted by thousands of financial institutions across the country

Our Solution
Internal audit software to empower your people
Nverify is a powerful, efficient audit management tool designed to help your financial institution:
Accelerate Audit Efficiency
Leverage Nverify's cutting-edge, risk-based audit templates to expedite your audit process, optimizing efficiency like never before.
Empower Quality and Transparency
Navigate audit quality reviews with ease and foster unwavering transparency throughout the audit process.
Streamline Operations
Harness the power of our audit management software to eliminate operational redundancies, creating a smoother, more efficient auditing process.
Reinforce Your Defences
Maintain crystal clear separations within your lines of defense, fortifying your institution's integrity and resilience with our audit software solution.
Set Your Institution Apart
Elevate your institution and pioneer a new standard in audit processes that distinguishes you from the competition.
Country Club Bank finds a vendor management partner to grow with
With regulatory expectations constantly evolving, this Bank needed a responsive partner to help it keep pace while working with its existing internal processes, approaches, and preferences.
Get Our Free Guide
Best Practices for Tracking Audit & Exam Findings
No matter what you call them, findings are the culmination of the audit and exam processes. They uncover risk—exposing deficient policies, procedures, and other controls so that they can be promptly remediated.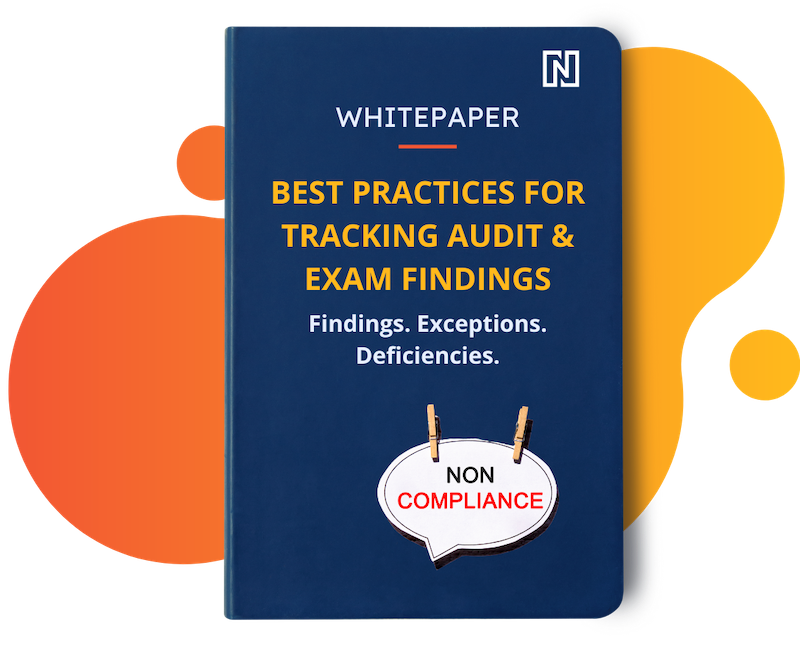 NVERIFY FEATURES
Internal audit management software to improve productivity and resource use
With Nverify, you gain access to premium features and tools like:
Nverify
Unleash the Power of Digital Workpapers
Say goodbye to the daunting task of tracking, reviewing, and documenting crucial internal audit issues. Nverify brings you digital workpapers, designed to convert complexity into simplicity. Organize your thoughts, maintain meticulous records, and streamline your internal audit testing in a breeze.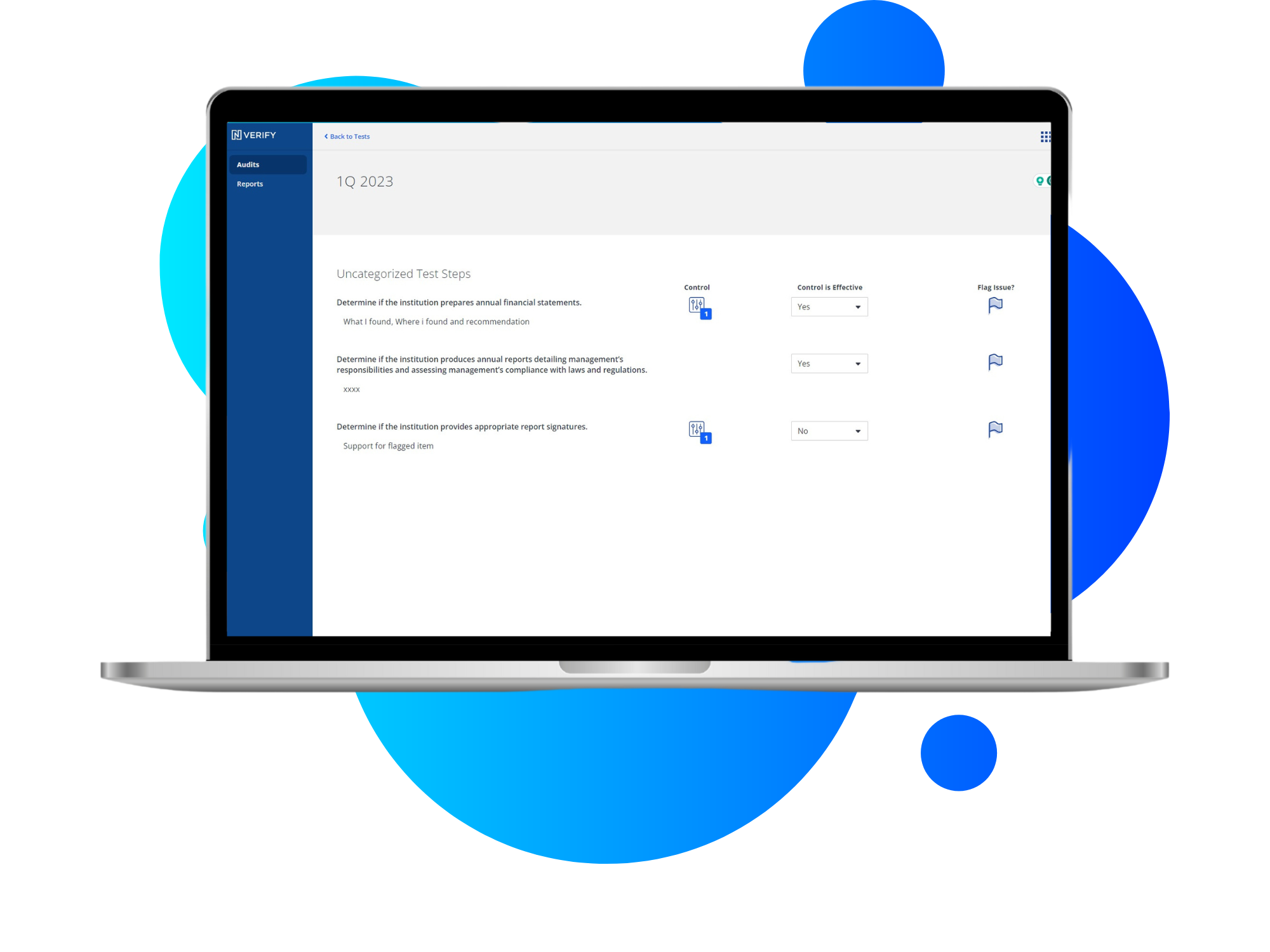 Nverify
Versatile Audit and Compliance Templates
Configure your way to success with our comprehensive selection of over 65 audit and compliance review templates provided by our audit tracking software. These are designed to accommodate a variety of scenarios, ensuring you are always prepared, no matter the complexity of the audit.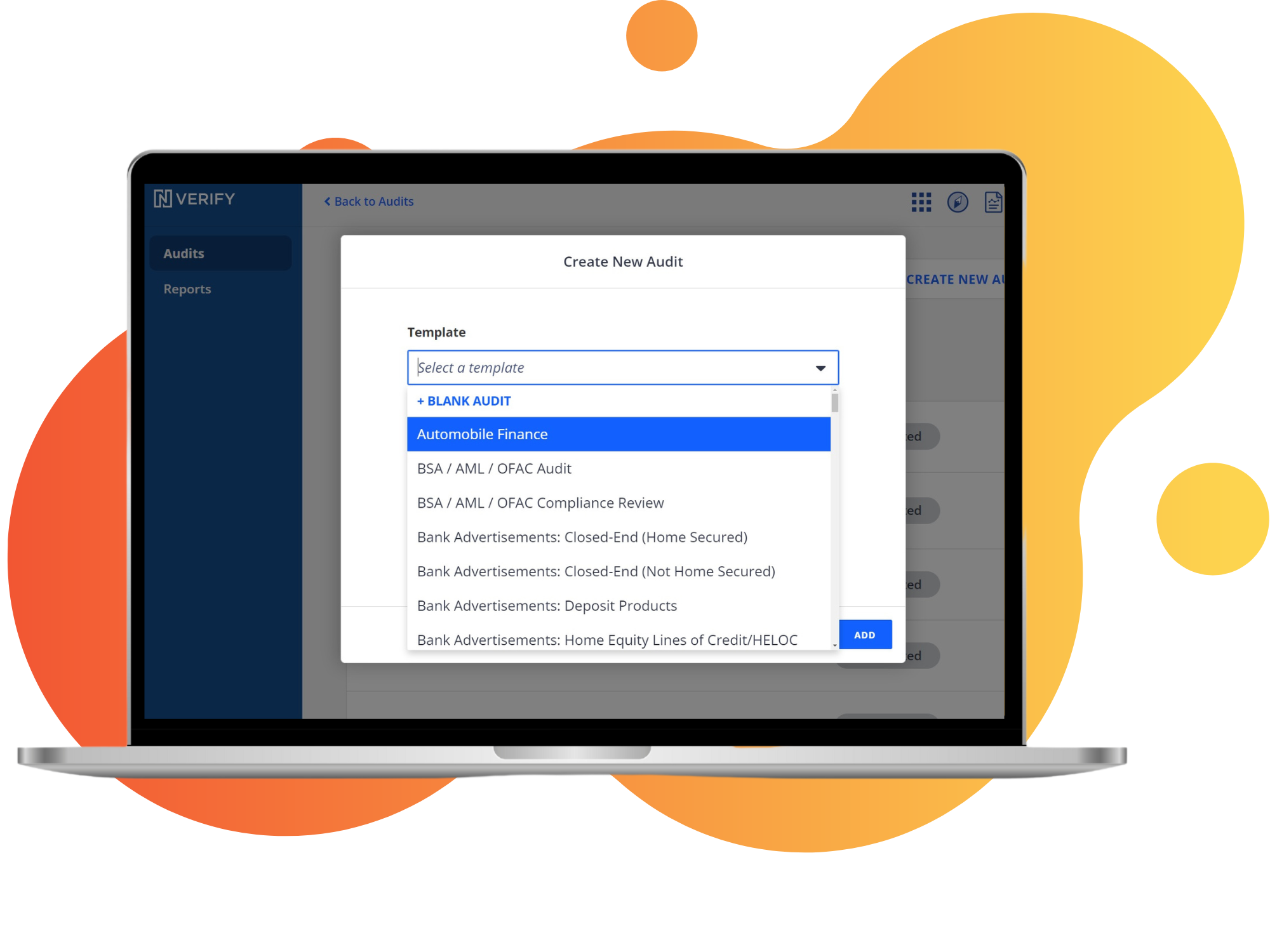 Nverify
Automated Workflows at Your Fingertips
Propel your audit efficiency with our step-by-step automated workflows. From initial testing to quality review, maintain an eagle's eye over every stage of your audit process. Gain unmatched control and visibility, empowering you to deliver impeccable audit performance.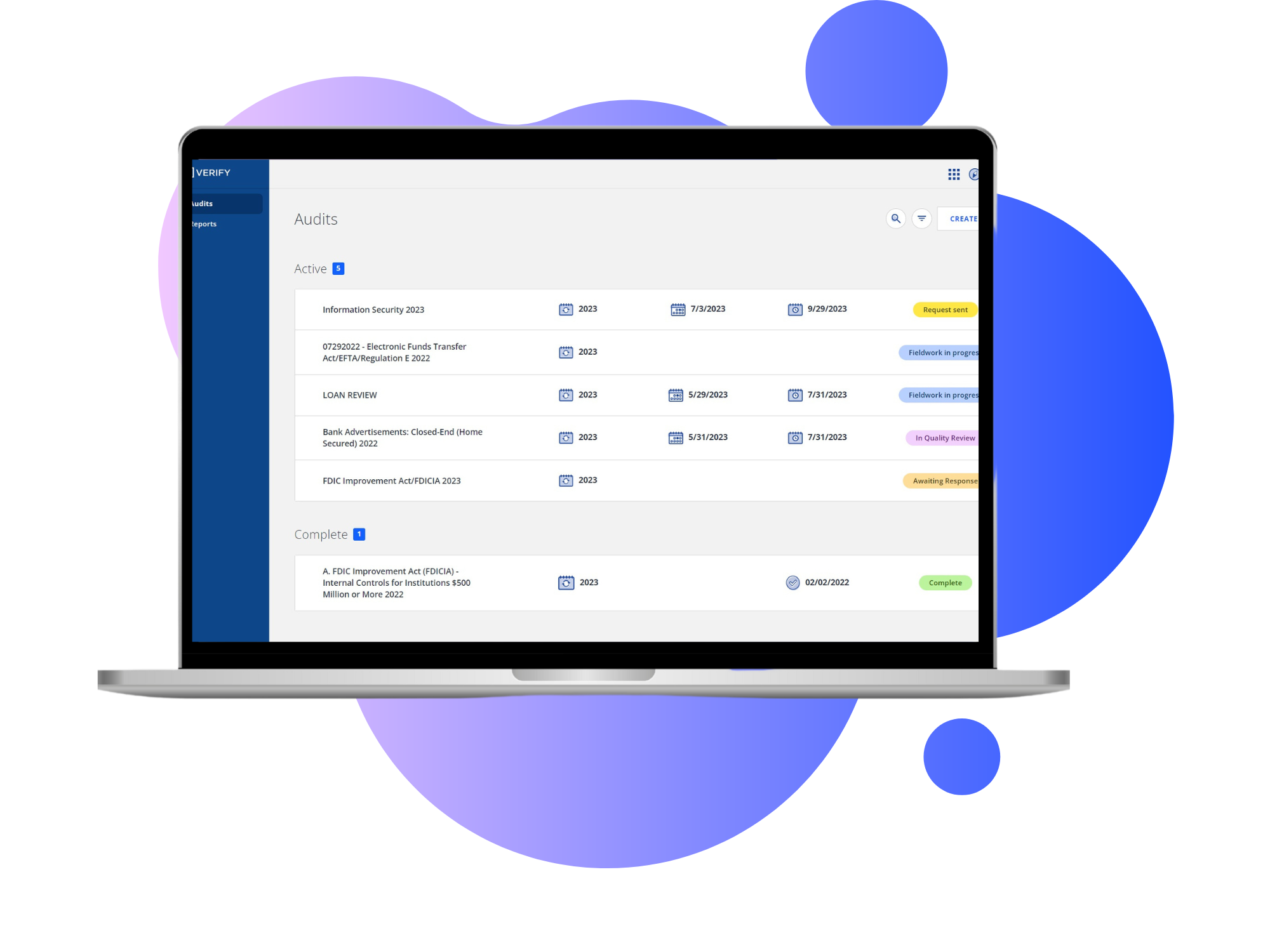 Nverify
Flexible Reporting on Test Results
Communication is key, and that's why our internal audit software offers flexible reporting on testing results. Keep your stakeholders informed with clear, concise reports, enhancing trust and facilitating seamless decision making.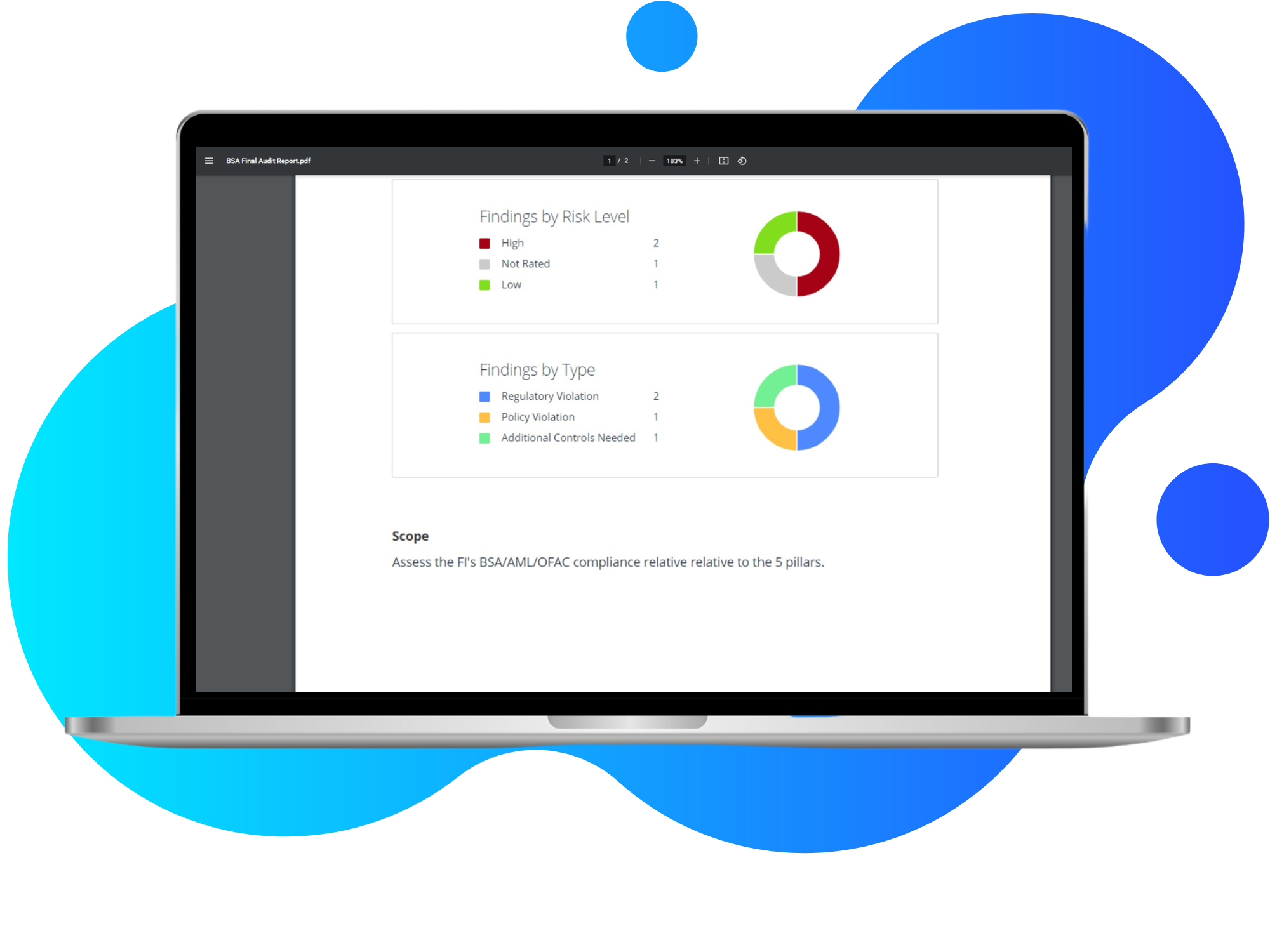 Seamless Integration with Nrisk
Seamless Integration with Nrisk
Robust Connection with Nfindings
Robust Connection with Nfindings
"Being able to create all the reporting with the same data across the different modules within the Ncontracts suite makes the whole experience so much easier for me to administer and present to the board and executive leadership team."
"My advice for financial institutions thinking about Ncontracts is to go ahead and do it. It's one of the best software that we have used, and it's all-encompassing. It gets all departments together on one system."
Personalized Software Demo
Connect with a team of experts on the benefits of Nverify. Help your team visualize vulnerabilities before your next exam with our auditing tool.
The Audit Management Software Buyer's Guide
Here's what's inside:

Why now is the time to modernize your internal audit program
What to look for when selecting an audit management system
Industry-specific, expert advice around audit management software
5 Must-Have Elements of an Effective Audit Program
Is your defense strong enough? Regardless of whether your FI has an internal audit function or uses an audit firm, an audit program needs these key elements.