Top 10 Compliance Blogs of 2020
Posted by
Michael Berman
on Dec 29, 2020 5:00:00 AM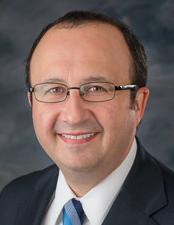 2020 was a big year for compliance content at Ncontracts. From celebrating National Compliance Officer Day all September long to giving you tips and tricks for making you more effective at your job, we were all about making recognizing the role of compliance and sharing ways to make compliance management more efficient.
Continuing with the theme, here are 10 of our most popular compliance-related blog posts for 2020.
1. What Examiners Will Be Looking for in Your COVID-19 Response
The ongoing COVID-19 pandemic has impacted operations and financials at every financial institution. You know it, I know it, and the regulatory agencies know it too. That's why they've released new guidance on safety and soundness exams for the COVID-19 era.
The Fed, FDIC, OCC, and NCUA released Interagency Guidance for Assessing Safety and Soundness Considering the Effect of COVID-19 Pandemic on Institutions.
In addition to existing policies and guidance, the agencies will also assess whether financial institutions have effectively managed COVID-19 risks and taken appropriate action to mitigate them. This includes the ability and willingness of management to take action and resolve issues. The agencies also recognize that even when FIs have good governance and risk management systems for identifying, monitoring, and controlling risk, there can still be an adverse impact to the financial institution (FI).
2. Examiners Want to Know: Does Your CMS Ensure Consumer Protection & Compliance?
Regulators aren't messing around when it comes to consumer protection and compliance. That's the message the FDIC sent in an enforcement action (EA) against a Wisconsin community bank that demonstrated weaknesses in its consumer protection and compliance program.
While the EA doesn't go into the details of what went wrong, it makes it clear the bank has to improve the following areas of its compliance management system (CMS).
3. Top 10 Reasons Why Compliance Officers Deserve to Be Celebrated
Whether you're a compliance professional or serve another role in the bank, we can all agree that compliance plays an important role at every financial institution and we always want to build up our colleagues.
In that vein, we present to you our Top 10 Reasons Why Compliance Officers Deserve to be Celebrated.
4. 11 Can't-Miss Compliance Management Tips From Top Compliance Officers
What are your compliance peers seeing? What are the latest tips and tricks for making compliance more effective?
Here are some of the top takeaways from our webinar Ask Me Anything Q&A: Compliance Managers Tell All.
5. 7 Ways to Cut Compliance Costs & Still Stay Compliant
After years of rising costs, many financial institutions are looking for ways to limit or even cut compliance budgets. The average financial institution spends about 5 percent of its overall budget on compliance, according to the 2019 ABA Survey of Bank Compliance Officers Report.
Yet compliance departments struggle to get the job done with current resources. Two-thirds of compliance officers name "not having enough time to manage regulatory compliance" as a major pain point, according to a recent Ncontracts survey.
How can financial institutions reduce the cost of compliance and remain compliant? It takes a combination of creativity and practical thinking. Here are six tips to help you.
6. How To Work With The Board & Management: 6 Tips From A Top Compliance Officer
Grant Jex is the vice president of risk management at $500 million-asset Prime Alliance Bank in Woods Cross, Utah, where management and the board are not only receptive to compliance, they are willing participants in establishing a proper culture of compliance. He has the resources he needs.
Here are 6 of his top tips for working with the board and management.
7. 4 Ways To Streamline Your CMS
Many institutions already have a strong compliance management system (CMS) in place. They simply need to find ways to enhance their existing systems to keep pace with the rate of change.


When compliance officers more efficiently manage the day-to-day details of compliance management, it frees them to focus on more strategic initiatives while being exam-ready.
While there are many ways to design a strong CMS, compliance officers and their staff should prioritize four key elements to streamline the process.
8. Pandemic Preparedness & BCP Department-by-Department Series: COVID-19 & Compliance and Risk (Part 4)
Earlier this year, if you had asked a compliance professional if they expected any major compliance changes during the first quarter, they'd have answered no. That was before COVID-19 began spreading across the U.S., readjusting the regulatory agency's top priorities.
While many necessary compliance and risk functions continue, it's by no means business as usual. COVID-19 is creating new operational risks that need to be identified, assessed, mitigated, and monitored.
In this fourth part of the Ncontracts' blog series breaking down key operational risk considerations department-by-department, we're addressing two departments: compliance and risk.
9. 7 Tips For Making Your Complaint Program More Effective
If your FI is following regulatory guidance, it has a complaint management program to ensure consumer complaints are heard and addressed. But is your complaint management program as effective as it should be?
Read on for seven tips to make your complaint management program more effective.
10 10 Must-Have Elements to Include When Drafting Policies
Policies are not one-size-fits-all documents. To be effective governance documents, they need to be tailored to the product, service, or area of operations impacted.
Despite this need for customization, there are some universal building blocks that should be included in every policy. Read on for insights into those 10 elements.
Topics: Risk & Compliance, Integrated Risk Blog, Regulatory Compliance Management,