Ncontracts Bolsters Protections for Banks and Credit Unions
Posted by
Michael Berman
on Feb 28, 2019 10:00:50 AM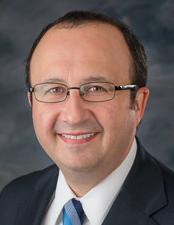 Ncontracts, the leading provider of active risk management for banks and credit unions, hopes to solve the problem financial institutions have with data protection once it transitions to a vendor through the addition of an advanced cyber monitoring feature.
"Banks and credit unions are on the hook if their vendors have a data breach, so it's important to know data is secure," says Michael Berman, chief executive officer of Ncontracts. "According to a 2017 Verizon study, 95% of breaches featuring the use of stolen credentials leveraged vendor remote access to hack into their customer's POS environments making continuous monitoring a business necessity. We're trying to get in front of the issue by ensuring the controls a vendor has in place are actually working on a continuous basis."
Berman compares it to the LifeLock theft-protection solution for consumers, as it protects financial institutions from risks related to vendors. The new feature, which becomes available February 1, is part of the company's comprehensive vendor management application. The cyber monitoring feature is powered by artificial intelligence, offering sophisticated reconnaissance. The Vendor Cyber Monitoring feature instantly rates, understands and continuously monitors the security risk of any vendor, sending alerts allowing banks and credit unions to take prompt action.
"Cyber monitoring has always been necessary, but the technology has evolved to where it can fend off problems proactively, before they start," says Berman. "This proactive stance is what our clients have been asking for but wasn't possible before the advent of sophisticated data analytics."
Ncontracts is part of the rapidly expanding fintech sector, with global investments in fintech companies climbing from $19.9 billion in 2014 to nearly $40 billion in 2017, according to Fintech Global.
###
About Ncontracts
Nashville-based Ncontracts is the dedicated provider of active risk management for banks and credit unions. Since 2009, over 1,250+ banks and credit unions across the U.S rely on Ncontracts customized services, integrated risk management platform and robust applications to proactively manage every aspect of vendor, operational, and compliance risk. Transform risk management from issue focused to business-ready, reduce risk, decrease cost and effort, and protect organizational reputation with Ncontracts. Follow us on Twitter and LinkedIn.
Topics: Risk Management, Banks, News & Updates, Credit Unions, Cluster: Risk Management