Attention Compliance Professionals: How to Leverage LinkedIn to Do Your Job Better
Posted by
Kinsey Sullivan
on Oct 5, 2017 9:00:00 AM
Contrary to what you might think about LinkedIn, this popular social media site is not just for job seekers and recruiters. It's a valuable platform for many different types of businesses and professionals. Of course, that's IF you know how to use it appropriately and effectively. As a compliance professional, there's much to be gained by leveraging LinkedIn for your financial institution.
Like most social media outlets, LinkedIn harnesses the power of personal connections. While many compliance professionals are doing a great job building a strong profile, there are many other benefits available to you. If you're not using LinkedIn at all yet, perhaps due to concerns about misuse or an inability to access it on your financial institution's network, it's probably time to reconsider.
You're already doing the incredibly challenging job of dealing with compliance issues at your institution; taking advantage of LinkedIn will be a breeze. After you set up your all-star profile, these 5 expert tips to succeed in the world's most popular professional social media platform.
---
Keep Compliance News and Financial Industry Insights at Your Fingertips
Unlock your one-stop resource for the latest tips and trends in regulatory compliance.
---
1. Join Compliance-Related Groups
You may be the only professional (or one of few) at your financial institution tasked with the nuanced responsibilities of ensuring compliance, but in the compliance field at large, you are not alone. There is a community of people with similar interests, questions, and challenges, and they're all accessible at a click. By taking advantage of this network, you can learn from your peers, stay on top of industry news, and build a professional community of colleagues and friends.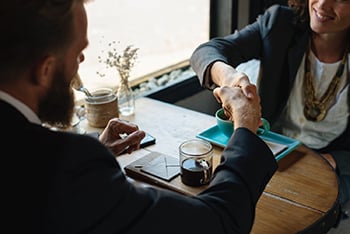 LinkedIn supplies the means for you to connect with others in your field in order to learn, share, commiserate, discover and improve together -- all of which ultimately translates to value for your organization. The more informed and confident you are about compliance issues, the more useful you can be to your institution. In addition, these groups help establish you as an expert.
That said, one way to leverage LinkedIn is by becoming a member of compliance-related groups. To find and request membership to these groups, use the following options:
Search by name or keyword:
Type a name or keyword into the search box at the top of your LinkedIn homepage, and click "Search."
On the search results page, click the Groups tab listed in the navigation area.
To see a group's membership page, click on its name.
To request membership, click "Ask to Join."
Browse recommended groups:
Click the Work icon in the top right of your LinkedIn homepage, and choose Groups from the dropdown menu.
At the top (left) of the new page, click the Discover tab.
A list of recommended groups will appear, and you can either select the "Ask to join" button under a group description or click on a name to find out more about that group.
Here are a few useful groups to get you started:
Once you are granted access to a group (or a number of groups), take full advantage by actively participating; post discussions, ask questions and comment on communications. While engagement with compliance-related groups on LinkedIn may not always be high, individuals who ask questions and share valuable resources are always appreciated. Utilize your email digest to navigate group activity; the cadence at which you receive these emails is controlled by you in your personal settings.
2. Showcase Earned Certificates
Credentials and certifications are vital to reflecting expertise in your industry. Not only do they attract greater numbers of profile views, but they also open up opportunities for professional discussion and position you as a thought leader. As a compliance officer or manager, it is beneficial to both you and your institution to showcase your expertise.
If you have earned the following or other compliance certifications, be sure to add them to your profile:
Certified Anti-Money Laundering Specialist (CAMS)
Certified Regulatory Compliance Manager (CRCM)
Certified Regulatory and Compliance Professional (CRCP)
Certified Compliance and Ethics Professional Program (CCEP)
Advanced Practitioner in Ethics & Compliance (APEX)
Certified Compliance and Regulatory Professional (CCRP)
Below are the steps involved in adding a certification:
Go to your profile page (click the Me icon at the top of your LinkedIn homepage, and choose "View profile").
In the right-hand column, click "Add new profile section."
Select Accomplishments from the dropdown menu, and then click on Certifications.
Fill in your certification information in the provided fields.
As you type in the "Certification authority" field, a list of companies will appear. Select the correct authority so their logo appears next to the certification on your profile.
Click Save.
You worked hard for those certifications, so show them off! That said, it's not just about copying and pasting from your resume - the beauty of LinkedIn is that you get to showcase your professional achievements while still being yourself! The best profiles provide a glimpse of their individuality, while still inspiring trust in their professional ability. Feel free to be more informal (yet still professional) on your profile, because your jobs, certifications, recommendations, and valuable insights you share will tell the story of your aptitude for you.
3. Request Recommendations
Recommendations and endorsements on LinkedIn make your profile look robust, and also showcase your achievements. In addition, getting endorsements from colleagues, clients and other professional connections lends credibility to you and your institution. These peer comments speak volumes about your commitment to compliance.
Fortunately, you don't have to sit and wait for someone to take action here. You can actually request a recommendation (that will be displayed on your profile page) by following these steps:
Choose a connection in your network by clicking "My Network" in your top navigation and selecting "See all" in the left-hand column of the page.
Click on a person's name to visit their profile page.
Click the More icon in the top section of their profile.
Choose "Request a recommendation."
Fill out the fields of the recommendations pop-up window, and click Next.
Add to or change the text in the message field, and click Send.
While you're exploring your network to find individuals to write a brief recommendation on your behalf, you may also stumble across individuals you'd like to get to know. It's absolutely appropriate to reach out to them to connect. Just make sure you include a short note about why you'd like to connect, and if applicable, who your mutual colleague is.
4. Share Informative Resources
As a compliance professional, and a valued expert at your financial institution,you're in a unique position to share knowledge and insights. Not only canyou benefit from the resources shared by those in your network and professional groups, but you can also be a thought leader by actively participating and posting your own valuable finds.
Your role requires you to stay abreast of current and changing regulations, news and happenings in the financial compliance sector, so you probably already have a short list of blogs and articles from industry leaders. Take this one step further by sharing any posts or communications that have been particularly helpful to you.
Some great resources you should be utilizing include:
5. Take Advantage of Pulse
Pulse is a LinkedIn mobile application for news aggregation, and it provides:
Daily news tailored to your needs and interests, so you don't waste time looking at content that isn't relevant to you.
Identification of top stories, such as latest industry news, what your colleagues are reading, what's trending at companies like yours.
Notifications on breaking news, important articles, and connections who are mentioned.
This app is a great way to see what your peers are reading and stay up to date on the top industry news. It should be leveraged to keep yourself and your institution at the forefront of evolving information in your field. To download, visit the LinkedIn Mobile Apps page and scroll down to LinkedIn Pulse. Click on the application download option that's specific to your mobile device.
For more helpful tips and insights on compliance topics in the financial sector, be sure to subscribe to our regulatory compliance blog today.
---
Topics: Banks, News & Updates, Credit Unions, Compliance, Mortgage Lenders, Lending Compliance Management,