Today's financial institution compliance officers are working in a challenging environment. Faced with a growing regulatory burden and limited resources, they have learned to be nimble and adaptable— their approach constantly evolving with the world of compliance.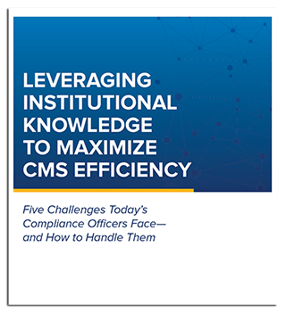 Their knowledge is highly specialized. Compliance officers understand the unique challenges of their institutions and how compliance plays a role in every major decision. They advocate for rule adherence, but understand that creativity and flexibility are sometimes needed.
Above all, compliance officers are organized. They are well-versed at seeking out information to understand what rules and regulations apply to their institution— and then draft policies and procedures as part of a strong compliance management system (CMS) to keep their institutions safe, sound and compliant. It is a job full of challenges including:
Evolving regulatory expectations

One-size-fits-all solutions

Audit trail documentation

Antiquated tools

Limited staffing
Let's take a closer look at the challenges facing today's compliance officers and how these obstacles can be overcome to make compliance officers and their departments more effective.