When it Comes to Fintech, You've Got a Friend in Your Regulator
Posted by
Michael Berman
on Nov 26, 2019 7:00:15 AM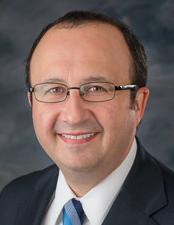 Most financial institutions have good relationships with their regulators—but many aren't making the most of what the financial regulatory agencies have to offer when it comes to fintech strategy.
Several of the agencies have introduced offices of innovation over the past few years to better understand the fintech landscape and work with banks to deal with the risks and challenges of partnering with fintechs. Believe it or not, regulators understand that innovation is moving faster than regulation and want to help the FIs they regulate innovate. They just want to make sure it's done responsibly to ensure the safety and soundness of the banking system.
In particular, regulators really care about vendor due diligence, fourth-party risk, and vendor contracts. They want to be sure that FIs have fully assessed all the risks of working with a vendor, a task made especially challenging for newer vendors with limited track records. They also want to know that the vendors and partners a fintech company uses are also reliable and unlikely to add risk. They also want FIs to negotiate contracts that will protect the FI and incentivize the vendor to act in the FI's best interests.
Let's take a look at the offices of innovation introduced by each agency:
FDIC
Earlier this year the FDIC launched the FDIC Tech Lab, or FDiTech, with a mission "to promote the adoption of innovative technologies across the financial services sector." Its four main goals are to:
Engage banks, fintechs, and others
Conduct pilot projects to test new technologies with regulators
Support new technological development
Expand banking to the unbanked and underbanked through new technologies
The FDIC's goal is to be involved early on in fintech development so it can understand them, identify regulatory challenges, and ensure compliance is considered from the beginning. As part of its effort FDIC Chairman Jelena McWilliams says the agency is looking for "techies" to join the agency, "from a Chief Innovation Officer to lead FDiTech to quants, data scientists, process engineers, software developers and network security experts who can reshape our supervisory approach in a rapidly evolving digital world and help protect our financial system."
OCC
The OCC created the Office of Innovation in 2017 lead by Chief Innovation Officer Beth Knickerbocker to serve as "the central point of contact and clearing house for requests and information related to innovation." It provides information on regulatory policy, processes, and expectations while sharing insights into real-world experiences.
The OCC's Office of Innovation regularly hosts "innovation office hours" throughout the country. These one-on-one meetings with Office of Innovation staff give both banks and fintechs an opportunity to talk about new products, services, partnerships, and other topics.
It also helps implement the agency's innovation framework to support bank implementation of fintech innovation including:
Technical assistance
Coordination and facilitation of innovation-related decisions and OCC involvement in bank fintech pilots
Awareness and training of OCC staff
Research
Interagency collaboration
This is separate from the agency's special purpose national bank charters for innovative companies, which has been blocked by the courts.
CFPB
The CFPB's Office of Innovation works with companies, consumer groups, regulators, and others to "promote innovation, competition, and consumer access within financial services."
These efforts include:
Creating policies and sandboxes, where companies are given safe harbor to test new products and services and share results with the CFPB, to reduce potential barriers to innovation.
Engaging with stakeholders interested in promoting consumer-beneficial innovation.
Coordinating with federal, state, and international regulators, including the creation of the American Consumer Financial Innovation Network (ACFIN).
The Federal Reserve
The Federal Reserve is expected to make its Innovation Policy Office public next year. Currently the agency regularly meets with nonbanks to gain insights into fintechs and joins in on interagency meetings on financial initiatives.
NCUA
The NCUA doesn't yet have an office of innovation. It also lacks direct supervisory authority over third-party vendors and credit union service organizations, which Congress is currently considering addressing.
"Lack of authority over third-party servicers does limit the extent to which the NCUA can evaluate and supervise the risks to credit unions posed by fintech companies," NCUA Executive Director Mark Treichel has said.
Innovation & Risk
These offices are an embodiment of a long-held wish: The agencies wish FIs would run ideas past them in the early stages. They want to help because when FIs make good choices, the whole industry wins. They want to learn about industry innovation and they want to share what they've learned.
How can your FI benefit from their knowledge? Here are a few examples.
Risk management.
An FI trying to assess the risks of buying all its solution and ancillary products from its core provider versus buying individual products from fintech providers could reach out to their regulator. For example, it could help point out if a bank-in-a-box solution makes sense due to the FIs size or if buying technology from fintech providers offers better indemnity and stronger contract protections than buying from the core. A company that's willing to stand behind their product may result in less risk exposure.
An agency won't tell you what to do, but they can help you dig into risk assessments and highlight key risks to consider.
Due diligence.
Agency offices of innovation can help FIs find ways to meet vendor due diligence requirements so they can work with fintech startups. For example, if your FI wants to use online account opening software but the company didn't have three years of financials but it did have a very thorough due diligence packet, the regulator could help you navigate the situation and risk assess the company.
Bridging the disconnect.
The banking and technology industries are often separated by language barriers. Regulators can help FIs and fintechs understand each other's goals, objectives, and requirements so they can develop more fruitful relationships.
The next time your FI is struggling with a fintech decision, don't be afraid to pick up the phone and ask your examiner or your agency's innovation officer for its advice. The agencies are just as vested as moving the industry forward as you are—and they'll help you assess and address the risks.
Topics: Banks, Risk & Compliance, Findings, Credit Unions, Exams, Fintech,