COVID-19 One Year Later: We Are All Risk Managers Now
Posted by
Michael Berman
on Mar 18, 2021 6:00:00 AM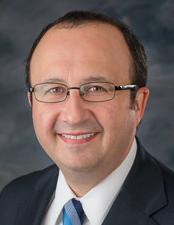 This month marks one year since the World Health Organization declared COVID-19 a pandemic and a new, socially distanced normal began. For many, it's been the longest and strangest year of our lives. It's also the year we all became risk managers.
The pandemic has moved risk management forward in ways we couldn't have imagined a year ago. At our company, we've spent the past year helping financial institutions assess and mitigate the risks of COVID-19 from an operational and strategic perspective. From the sudden pivot to the work-from-home environment to rolling out the Paycheck Protection Program in record time, financial institutions have had to respond to new risks and challenges with limited information and a mandate to help consumers experiencing every kind of financial shock. Abstract exercises in business continuity planning and pandemic planning became real-world scenarios.
Yet advances in risk management haven't been limited to the financial industry and the professional world. This past year has been a masterclass on risk management for everyone. Risk management practices and lingo have gone mainstream.
In our personal lives, we've found ourselves identifying the inherent risk of COVID-19 of our family members and friends, assessing them as low-risk, moderate-risk, and high-risk when it came to the likelihood of contracting COVID-19 and the potential severity of its impact.
Mitigation has become an everyday word as we've learned how masks, social distance, outdoor events, and hand washing are valuable controls that can help reduce the spread of COVID-19.
We've become experts at monitoring, taking temperatures before entering schools and offices and answering questions about symptoms, travel, and exposure to those who are sick.
Individuals and families regularly discuss risk tolerance, making decisions about their comfort level with in-person work or school, grocery shopping, visiting with friends, and dining at restaurants. These are deeply personal risk calculations, with families making strategic decisions about how they will work and live within their own appetite for risk.
We've also learned about allocating resources to mitigate risk—and how that calculation isn't the same everywhere. This has been especially obvious with the vaccine rollout as each state has made different determinations for which categories of people are eligible for vaccines and when.
The future of risk management
While the COVID-19 pandemic has been an exceptionally difficult way for the general population to learn about risk management, I'm hopeful that these lessons will help educate and inspire a new generation of risk managers.
A few years ago I published a blog that expressed my worry about how 90 percent of risk managers weren't in the financial services industry during the 2008 financial crisis and its aftermath. I was concerned that financial institutions with green risk managers may have difficulty navigating the next financial crisis. I saw it as the difference between the thrifty grandfather who came of age during the Great Depression and won't throw out anything and his daughter who knows she should be thrifty but doesn't have the practical experience of living without to inform her actions. Would they have the tools and expertise to manage risk?
I'm less worried about that now. The next generation of risk managers is having experiences that make them adaptable and practical. They can assess emerging risks and make hard decisions about what needs to be done.
I'm not just talking about risk avoidance—although there has been plenty of that. I'm also talking about seeing opportunities and finding ways to innovate. Whether it's celebrating a birthday or graduation with a car parade or a Zoom call, finding ways to safely help the isolated, seeking out new outdoor activities, or live streaming concerts and events, we have learned to see the silver lining and make the best of what's available.
That ability to find the upside will be a huge advantage for future risk managers.
Looking ahead, I'm eager to live in a time when risk management won't play such a major role in our everyday lives and deciding to visit friends or family or attend a work conference won't involve heavy risk assessments. Until then, we are all risk managers.
It's been a rough year, and you deserve a little fun! Go ahead and enjoy a moment of levity with one of our quizzes, and see where you stand on risk management concepts and trends.
Topics: Risk Management, Risk & Compliance, Integrated Risk Blog, Cluster: Risk Management