Are You A Compliance Scrooge? Plus 5 Fair Lending Questions for 2013
Posted by
Andy Barksdale
on Dec 6, 2012 12:27:00 PM
We have officially entered the Holiday Season. This should not be a newsflash to anyone. The mall across the street from our corporate office in Charlotte, has been playing Christmas music and decking the halls since October. Despite the mall's valiant attempt to move the Holiday Season to October, we would like to believe that December actually marks the "season to be jolly."
This time of year, we often hear the Compliance Scrooge ask, "How can you embrace the 'season to be jolly' in today's intense regulatory world? Bah Humbug."
Sound familiar?
There are real concerns over the volume of regulation and the velocity of change. When change and volume are combined with the need to manage the smallest details, it can bring real Scrooge-like stress to the entire financial institution. Fair Lending regulatory compliance is potentially one of the most stressful areas for compliance officers. Multiple laws and regulations (ECOA, FHA, CRA, HMDA, etc.) combined with unique market attributes and bank strategies does not afford a simple, one-size fits all compliance program. Yes, "Bah Humbug" is a real tempting attitude to adopt.
But there are ways to find joy this Holiday Season.
The happiest and most successful risk and compliance managers find happiness with the knowledge of where Fair Lending risk exists, have a handle on how to control the risk, and have a plan to monitor and manage the Fair Lending risks.
Their success starts with knowledge and awareness! The 5 Minute 5 Question Quiz below will help you gauge your current position and allow you to better prepare for 2013.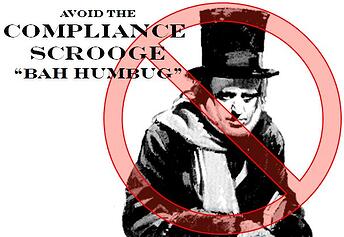 Bottom Line: In Charles Dickens' novel, A Christmas Carol, Ebenezer Scrooge finds happiness once he is enlightened and elects to re-embrace life. Take 5 Minutes to answer 5 Questions and proactively combat the Compliance Scrooge's "Bah Humbug" attitude. Click here or the image below to gain instant access. Knowledge is power and a great gift to provide your financial institution this Holiday Season.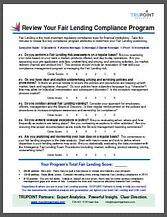 Keep in mind, the regulatory compliance journey is not yours alone. TRUPOINT Partners is here to help by providing the right experts, the right tools, and a sincere commitment to your success. We would love to help lighten your regulatory compliance load.
'Tis the season to be Jolly. If you know a Compliance Scrooge, email him this blog.