UDAAP: Not Just a Fair Lending Issue
Many bankers associate Unfair, Deceptive and Abusive Acts or Practices (UDAAP) with fair lending, but UDAAP is much bigger than fair lending. It touches every business unit within a financial institution, all the way to the front line. 
UDAAP is designed to protect the vulnerable. While this aligns with the regulatory agencies' emphasis on inclusiveness and equal access to services, UDAAP extends beyond prohibited basis in fair lending laws to a broader population.  
Want to know more about UDAAP?
Download our toolkit.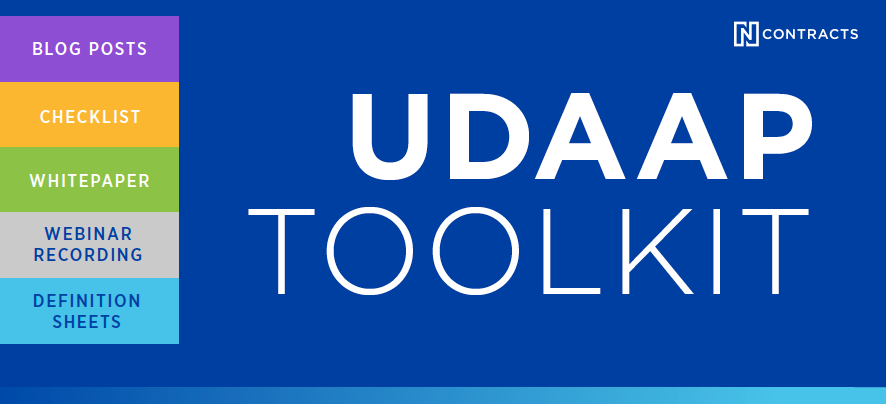 Most UDAAP violations fit into the "deceptive" category, meaning that it misrepresents, omits, or misleads in material. The second most common category is "abusive," where a financial institution interferes with the ability for a consumer to understand, or it takes advantage of their lack of understanding, as it relates to the products and the services that they're offering. 
Areas vulnerable to UDAAP violations
A UDAAP violation can occur at any stage during the credit lifecycle, including sales, marketing, underwriting, origination, account management, and loan servicing. 
Sales, marketing, advertising, and lending are particularly susceptible to UDAAP violations. When delivering a message to the target audience, it's especially important for these areas to consider: 
level of education 
financial sophistication 
access to your marketing 
This is especially true for riskier loan products and niche products such as small dollar or payday loans, high-cost installment loans, and reverse mortgages. This is also important for third-party vendors doing business on your behalf. If they are not complying with UDAAP, your institution will be held responsible for those violations.
Be sure not to turn a blind eye to your deposit products as well. Violations related to overdraft programs and practices are quickly gaining attention.   
How Are You Treating Consumers?
UDAAP definitions can be vague and may be interpreted differently by different regulators at different times. It's also open to interpretation by customers who can complain about behavior that's unfair, deceptive, or abusive. Things to think about: 
Is your website easy to navigate? 
How long do consumers have to wait on the phone to talk to somebody about their mortgage loan?  
Have they had to say "don't call me at work" multiple times throughout the collection process?  
If you have a call center, does everyone provide consistent answers to questions or do different consumers get different answers? 
These are the types of questions that should be considered as part of a UDAAP risk assessment—whether it's stand-alone or part of an overall consumer compliance risk assessment. 
It's also essential to really know your institution's vulnerable population and understanding their demographics. 
How well is your institution managing UDAAP risk?
While 59 percent of bankers say their leadership team has provided them with adequate resources and tools for managing UDAAP risk, another 22 percent are just at the beginning of building out their UDAAP program and 14 percent don't feel well equipped. 
Meanwhile, just 11 percent of bankers are very confident that their vendors are managing the risks associated with UDAAP. 
Managing UDAAP risk begins with a UDAAP risk assessment. Whether it's a stand-alone assessment (26 percent of financial institutions), part of another risk assessment (38 percent), or part of consumer compliance testing and audit (26 percent), a UDAAP risk assessment helps your financial institution so it can ensure it has policies and procedures in place to mitigate those risks.