Pandemic Planning: Is Your FI Prepared for Coronavirus?
Posted by
Michael Berman
on Feb 18, 2020 6:00:04 AM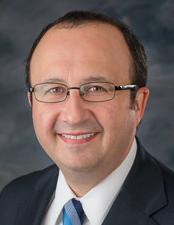 The largest bank in Singapore made headlines last week for being the first lender to shut down its office due to coronavirus after an employee tested positive for coronavirus (aka Covid-19).
DBS Bank sent home 300 employees and shut down its offices on the 43rd floor of the Marina Bay Finance Centre's (MBFC)'s third tower midday Wednesday, telling its employees to work from home. The closure occurred one day after the employee was tested and just hours after it was confirmed.
DBS is equipping staff with care kits that include masks, a thermometer, hand sanitizer and vitamin C. It's also "conducting detailed contact tracing with all employees and other parties that the infected employee may have come into contact with."
DBS left open floors 45 and 46, where the bank's senior executives work, following Ministry of Health guidelines to disinfect common areas like bathrooms and elevators. Other precautionary measures include temperature screening at all office buildings and face masks for frontline employees as well as allowing telecommuting and or working from split sites (i.e working from different locations).
DBS Bank isn't the only company in the business complex hit by the virus, reports Euromoney. The prior weekend an employee working in Tower 1 tested positive. That office was open the following Monday after a thorough cleaning and the introduction of temperature checkpoints.
Financial sector activating BCPs
Singapore has over 65 confirmed cases of coronavirus, and concerns about it spreading further are impacting the financial services industry.
The Monetary Authority of Singapore is requiring that financial institutions prepare for the possibility of increased demand for banking services by keeping extra cash on hand and ensuring digital systems are able to keep pace.
Banks throughout Asia are activating their business continuity plans, limiting road shows, business travel and meetings and many are encouraging staff to work from home. Many banking offices in China are closed.
In addition to activating BCPs to ensure networks can handle the increased strain of thousands of employees working from home, there are also financial risks to consider.
Everyone from multinational corporations to mom-and-pop food stalls missing out on lunchtime business as workers stay home are feeling a financial impact. DBS, for example, expects coronavirus to decrease full-year revenue by as much as two percent.
Asian banks, including in Hong Kong and Singapore, are being proactive in recognizing the strain on customers. DBS is offering customers relief in the form of a six-month moratorium on principal repayments for small- and medium-size business property loans in Singapore and Hong Kong, Bloomberg reports.
Planning for Pandemic
As coronavirus spreads across the globe, it's important to make sure your financial institution is prepared to deal with a pandemic or other major business interruption.
Business continuity management is all about resiliency. Your FI needs to have plans in place to ensure critical business functions remain operational—whether that means taking steps to limit transmission of the virus, ensuring your remote work technology can support your entire staff, (as we did during our recent BCP test where we shut down our whole office) or taking steps to provide customers financial relief.
While it's important to be able to recover from a disaster, it's even better if you can minimize its impact through resilience.
The good news is that you don't need to have a BCP dedicated to the coronavirus. A thoughtful BCP plan is function-based and should work whether a disruption is caused by tornado damage to a data center or a pandemic that keeps employees home.
To learn more about BCM best practices and how to ensure your BCP is thorough and up-to-date, check out our webinar: Top 10 Things to Consider for an Effective BCP Plan.
Topics: Banks, Ncontinuity, Product Insight, Risk & Compliance, Credit Unions, Business Continuity, Business Resiliency,