5 Settlements, 1 Lesson on Fair Lending Risk and Maternity Leave
Posted by
Andy Barksdale
on May 7, 2013 10:15:00 AM
Maternity leave is one area that the US Department of Housing and Urban Development (HUD) continues to aggressively regulate. They take action against lenders who refuse to make loans to otherwise qualified women merely because they are pregnant or on maternity leave. Are you properly managing Fair Lending Risks associated with Maternity Leave? We'll analyze 5 recent settlements to provide 7 risk mitigation strategies and 1 critical lesson.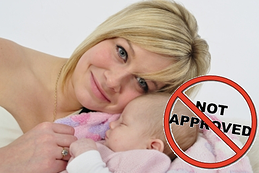 The Fair Housing Act (FHA) prohibits discrimination in the sale, rental and financing of dwellings, and in other housing-related transactions, based on sex, race, color, national origin, religion familial status, or disability. HUD's Office of Fair Housing and Equal Opportunity and its partners in the Fair Housing Assistance Program investigate almost 10,000 housing discrimination complaints each year.
In the last 12 months, there have been several maternity leave settlements that have been released by the HUD. Below is a quick synopsis of the various settlements along with a quick overview of how you can mitigate the risk.
Settlement 1: A Different Perspective on "Good Risk"
Allegation: Primary Residential Mortgage, Inc. (PRMI) in Utah (Released April, 2013) – Settled allegations that the lender denied a Baltimore, Maryland woman a mortgage loan because she was on maternity leave. The woman, who applied for the loan in her name, and her husband filed the complaint alleging discrimination after one of PRMI's loan officers told her that she was a "good risk" and that the lender would be willing to finance her loan, but only after she returned to work.
Result: PRMI agreed to pay the woman $13,000, adopt a parental leave policy with respect to loan applications (applicable for BOTH men and women on leave), and train loan officers on the new policy.
Concerned about your institution? Are you compliant? Click here for a FREE Fair Lending Risk review.
Settlement 2: Veterans & Paid Maternity Leave
Allegation: PNC Mortgage (division of PNC Bank) in Connecticut (Released February, 2013) - Settled allegations that the lender violated the Fair Housing Act by requiring a home loan applicant on paid maternity leave to return to work before the lender would approve a home loan. The complaint alleged that PNC required the woman, a Navy veteran, to return to work before approving the Department of Veterans Affairs (VA) - guaranteed loan.
Result: PNC Mortgage agreed to pay $15,000 to the couple and review applications for VA-guaranteed residential mortgage loans filed in the last two years to identify qualified loan seekers whose applications were denied because they were pregnant or on maternity leave. PNC will pay $7,500 each victim who is identified. PNC will also revise its Temporary Leave/Short-Term Disability Income policy if HUD finds that the policy is deficient, and will provide fair lending training to its residential mortgage loan originators, underwriters, and processors.
Settlement 3: Paycheck Requirements
Allegation: Land Home Financial Services (LHFS) in California (Released September, 2012) – Settled allegations the lender violated the Fair Housing Act by refusing to approve a Discovery Bay, California couple's mortgage application because the wife was on maternity leave. The couple claimed they applied for the mortgage and received a loan pre-approval letter. However, after the wife gave birth, LHFS required her to return to work and earn a full two-week paycheck by the time escrow closed on the loan. Consequently, in order to obtain the loan, she terminated her maternity leave early and returned to work just 19 days after the birth of her child.
Result: LHFS agreed to pay the couple $20,000. LHFS will also ensure that its underwriting polices conform to Federal National Mortgage Association (FNMA) and Federal Home Loan Mortgage Corporation (FHLMC) guidelines with regard to treatment of maternity and pregnancy leave income.
Settlement 4: "Mothers Don't Go Back to Work"
Allegation: Cadence Lending/Waterstone Mortgage in Wisconsin (Released August, 2012) – agreed to settle on three related complaints (applicant as buyer, home seller and real estate agent) associated with a woman on maternity leave. The woman and her realtor claimed they were told by Cadence Lending (formerly owned by Waterstone) that lending wholesalers believed that "mothers don't go back to work" and that lending based on maternity leave pay violated Fannie Mae Guidelines.
Result: Waterstone agreed to pay $15,000 to the woman, $5,000 to her attorney, $2,625 to her realtor, and $875 to the realtor's attorney. In addition, the lender will provide Fair Housing Training to all of its employees substantially involved with lending and must follow all state and federal Fair Housing Laws. Additionally, Waterstone must adhere to Fannie Mae's Selling Guide's provisions of the proper treatment of temporary leave income.
Settlement 5: Application Processing
Allegation: Bank of America in California (Released June, 2012) - Agreed to settle allegations that one of the bank's San Jose, California branches refused to refinance the mortgage of an Irvine woman because she was on maternity leave. HUD reached the agreement with Bank of America to resolve a Fair Housing Act complaint that had been filed by the Fair Housing Council of Orange County (FHCOC). The woman told FHCOC, a non-profit fair housing organization funded by HUD, that in December 2009, a Bank of America agent offered her a 5% interest rate for a home refinance loan, with no costs or fees. But in January 2010, after she had applied for the loan and supplied the necessary documents, the bank allegedly refused to process her application because she was on maternity leave. In her complaint, the woman alleged that a bank agent told her that she would have to return to work full-time in order for her loan to be approved.
Result: Under the terms of the Conciliation Agreement, Bank of America will pay $30,000 to the woman, $16,180 to her attorney, and $15,000 to FHCOC. The bank will also create a $100,000 Compensation Fund to pay damages to loan applicants or borrowers who may have been denied a loan, subjected to adverse loan terms, or had their loan applications delayed because they were pregnant or on maternity leave. In addition, the bank is requiring all of its loan officers nationwide to complete annual fair lending training.
Definition of Familial Status
The Fair Housing act makes it illegal to discriminate because of familial status in the sale, rental, or financing of dwellings, and in other housing-related transactions. Familial status covers the following:
Families with children under the age of 18 living with parents or legal custodians;
Pregnant women; and
People securing custody of children under the age of 18
Examples of discrimination include:
Housing advertisements stating that children are not wanted;
Charging families higher rent or related fees because they have a child;
Restricting families with children to one area of a building or complex;
Denying housing to families or evicting them because they have a child;
Administering rules and procedures that unfairly target families with children;
Denying a mortgage because a person is pregnant or takes maternity leave (male or female); and/or
Charging a higher interest rate because a person is pregnant or takes maternity leave.
7 Ways to Limit Fair Lending Risk
The bottom line: The cases above collectively and consistently highlight the importance of having updated policies AND effective employee training.
Here are 7 ways a lender may mitigate its fair lending risk associated with Maternity Leave:
Do not assume that a woman will not return to work after childbirth;
Do not use underwriting policies (including short-term disability income policy) that treat applicants (male and female) on maternity/parental leave and applicants on other types of leave similarly;
Do consult with investors to understand the requirements for considering and verifying the income of an applicant on maternity/parental leave;
Do review and address complaints by consumers who were on maternity/parental leave at the time of the application;
Do review recent settlements to learn about problematic practices;
Do understand family leave policies at applicant's employer; and
ONE CLEAR LESSON: Make sure individual employees are trained and understand the financial institution's policies and procedures. Train, document, and test for proficiency!
Ncontracts Viewpoint: All it takes is one errant conversation or decision to create problematic Fair Lending risk. Therefore, employee training and management reinforcement is the most critical part of policy execution - particularly in complex areas like maternity leave.
There are many risk areas, so it's critical that you understand your risk. Ncontracts can help you develop the right policies and deliver memorable training.
Read More…
Topics: Lending Compliance, Lending Compliance Blog, Lending Compliance Management,