Why the OCC Is Like a Peanut Butter Cup and Other Podcast Insights?
Posted by
Michael Berman
on Feb 20, 2020 6:00:28 AM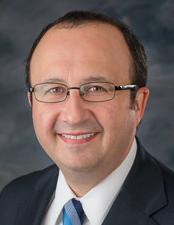 Want to hear about OCC plans, initiatives, and priorities right from the OCC right from the source? You've got it!
Controller of the Currency Joseph Otting recently joined Jo Ann Barefoot of the Barefoot Innovation Group (and a former deputy controller of the currency) on her podcast. (She also has a fascinating podcast interview with FDIC Chairman Jelena McWilliams covering everything from how McWilliams went from a child in communist Yugoslavia to head of the FDIC to her plans for the agency and how to enact a culture change.)
It's a great listen. Here are a few highlights from Barefoot's chat with Otting:
Otting thinks having a former banker in the role brings fresh perspective.
"I often say kind of a little bit like the peanut butter and chocolate when the Reese's Peanut Butter Cup came together. I think it's been healthy for them to understand the way a banker views it and me to have a greater knowledge about the way a regulator looks at things."
He wants to make the OCC more efficient and effective, including its rules.
In addition to its proposal to modernize the Community Reinvestment Act (CRA), he's also looking to make BSA/AML more efficient and predicts there will be an interagency effort on small-ticket consumer lending released later this year. Within the agency, a single supervisory platform is a major initiative for 2020 or 2021. Instead of adding on to a legacy system, he'd envision what it would look like to start fresh and map out all the existing processes, including those that aren't currently documented. His efforts for organization efficiency have shaved $180 million off the agency's $1.2 billion budget.
The agency is considering what to do if a cyberattack causes a bank to fail.
Credit risk isn't the only potential cause of a bank failure anymore, Otting noted. A bank that falls victim to a cyberattack could potentially fail. "If a major bank got shutdown, Australia opens at 8:00, Japan opens at 9:00, if a US entity couldn't fund their obligations they would be in default and we would have a rolling default across the United States. We spend a lot of time trying to understand the ramifications of that and what would we do in the event that those things occur."
He meets weekly with the heads of the Fed and FDIC.
After the Fed broke from the OCC and FDIC on CRA modernization, it might seem like the agencies are worlds apart, but their heads are actually in frequent contact. FDIC Chairman Jelena McWilliams and Randy Quarles, vice chairman of supervision for the Federal Reserve System, "meet almost weekly either on the phone or in person... We really sit down, roll up our sleeves, talk about what rules or activities are underway." They also engage with agencies like the Consumer Financial Protection Bureau (CFPB), National Credit Union Administration (NCUA) and the Securities and Exchange Commission (SEC).
The OCC offers a voice to fintechs that want to partner with banks and their vendors.
Otting said a lot of fintechs were interested in becoming banks until they found out all the rules and requirements. "I often kid and said people left skid marks leaving the building because they realized that they didn't want to be a bank," he joked.
Today fintechs are much more likely to ask about how to partner with a bank or bank service providers. "I think you have to view it as this enormous consulting function within the agency that can provide services to people that are considering offering financial services products."
The staff who guided the agency through the financial crisis have moved on.
After 10 years of economic recovery, Otting notes that many who were involved in navigating the crisis have retired or left the OCC. That means many people employed there now have no first-hand experience with a downturn—a risk management observation that aligns with overall trends in the banking industry. Otting says the agency needs to consider that lack of experience when deciding what "early warning signs" to look for.
Topics: Banks, Ncomply, Nrisk, Risk, Product Insight, Risk & Compliance, Compliance, Regulatory Compliance Management,