Hardly slowed by COVID-19
Posted by
Michael Berman
on Nov 30, 2020 2:29:56 PM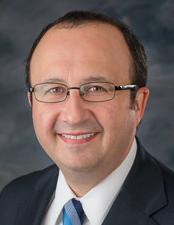 Unlike much of the rest of the economy, Nashville-based Ncontracts experienced only a slight hiccup as COVID-19 began its spread across the country earlier this year.
Sure, some deals the company had in the pipeline were delayed, but only for a month or two. And though one of Ncontracts' best sources of new business — trade shows — has disappeared, the company is growing in new ways, and has no plans to slow that momentum.
Ncontracts founder Michael Berman previously served as general counsel for a fintech company, dealing with a lot of compliance and regulatory work. Working largely in basic spreadsheets was "super painful."
"So I started looking for a different way to do it, and I didn't find anything in the market," he says.
When the company sold, Berman turned his proceeds into seed money for Ncontracts, which the "recovering attorney turned entrepreneur" foresaw as a solution to the problems he'd encountered working on fintech compliance.
"I really wanted to create a solution to help with third-party risk management," he says.
The difficult work of diligence, information technology reports and contract review "was typically not anybody's full-time role" at the time, and firms "really struggled to deal with the volume of information that was available," he says.
And thus was born Ncontracts.
In August, Ncontracts acquired Johnson City, Tennessee-based Banc Intranets, adding about 60 people to its staff and beefing up its communications offerings in the process. In July, Ncontracts launched its own internal audit tool built from scratch. And the hiring was not limited to the acquisition of Banc Intranets.
The company's arc can be traced, of course, to its founding in 2009. But the firm truly started growing in 2015, when San Francisco-based Mainsail Partners came onboard as Ncontracts' main backer. Until then, Ncontracts was funded by Berman, who also serves as CEO, and his close contacts, an arrangement that hindered the company's ability to grow. Earlier this year, another San Francisco firm, Gryphon Investors, took over from Mainsail, but Berman says the trajectory has not changed.
"They wanted to get on the growth train with us, and we're happy to have them," he says of Gryphon. "COVID slowed us down, but we're still growing this year by most measures very aggressively."
That means hiring tech talent at "a pretty good clip," but unlike other firms in years past, Berman says he has no trouble hiring developers and other talent in the Nashville market.
"We do not have problems finding great talent," Berman says. "Nashville's a great place to find talent."
Ncontracts' founder believes the company would be growing whether or not a pandemic was disrupting the economy — if anything, because he feels the company's products make complicated work easier. But he also sees a silver lining in the workforce transitions forced by coronavirus.
"Because it's a SaaS-based platform, you can access it from anywhere," he says. "If they were using Excel spreadsheets, which is typically what we replace, having access to these things in a web-based software where they can access it and collaborate is a lot easier using our type of technology, versus manual processes. Those might have worked pretty well if we're all working in the office but not so well when we have a distributed workforce."
With the backing of its "very sophisticated investors," Ncontracts has plans for continued growth in the next five years.
"We are going to be growing both by acquisition and organically — very aggressively," Berman says. "We think there's a huge opportunity, all within the financial services space. We're super excited about the future for us."
Topics: Banks, Ncontinuity, Product Insight, News & Updates, Credit Unions, Business Continuity, Business Resiliency,