Are You on the Regulator Fair Lending Radar? 5 Factors to Assess
Posted by
Andy Barksdale
on Nov 12, 2013 11:17:00 AM
The CFPB released its fourth Semi-Annual Report on November 5th. The report provides Congress and the public an update on the Bureau's mission, activities, accomplishments and publications. Below is a quick snapshot of the CFPB's Fair Lending prioritization process that enables the Bureau to determine which entities and product types pose the greatest risk of lending discrimination to consumers and where to dedicate resources accordingly. Are you weak in any of the "Big 5 Factors" used to determine regulator focus and exam priorities? Answer a few quick questions to determine if you are popping up on your regulator's radar.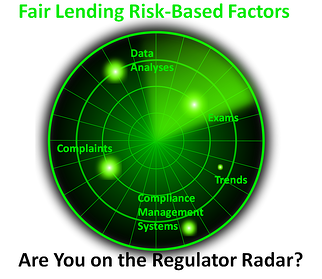 The CFPB's fair lending risk-based prioritization process considers several sources of data to determine an institution's risk. Financial Institutions have access to the same data points and should allow them to conduct internal risk assessments as well. In evaluating risk to consumers in order to prioritize fair lending supervision and enforcement resources, the Bureau considers the following factors, which are not listed in order of importance or weight:
1. COMPLAINTS: Fair lending complaints and public or private fair lending litigation;
Additional TRUPOINT Insight: It is no longer optional to have a formal complaint management system (monitor, analyze and report on complaints with centralized controls across business lines).

Critical Question: Does your complaint management program establish channels to receive complaints; consistently offers timely resolution of all complaints; has religion about the centralized recordation, categorization, and analysis of complaints and inquiries; review for possible violations of consumer financial laws?
2. EXAMS: Information gathered from the Bureau's and other regulators' fair lending supervisory examinations and any resulting enforcement actions;
Additional TRUPOINT Insight: The CFPB stated that the most common weakness identified during reviews is a deficient system of periodic monitoring (monthly or quarterly to ensure day-to-day compliance) and independent audit (annually to ensure compliance is operating properly). Without proper monitoring and audit, violations can go undetected for long periods of time, leading to multiple regulatory violations.

Critical Question: Do you have an audit plan that is conducted independent of both the compliance program and business functions? Does your monitoring plan provide timely feedback? When was your last fair lending risk assessment?
3. COMPLIANCE MANAGEMENT: Adequacy and quality of an institution's fair lending compliance management program;
Additional TRUPOINT Insight: CFPB has declared an effective Compliance Management Program to include four interdependent control components

Board of Directors and Management Oversight

A Compliance Program (Policies, Training, Monitoring, Corrective Action)

Complaint Management Program

Independent Compliance Audit

Critical Question: Does your program have all four components well defined and well executed?
4. DATA ANALYSES: Data analyses that evaluate institution-specific issues, as well as issues across institutions; and
Additional TRUPOINT Insight: The regulators and the Bureau have made large investments in technology and data analytics. The CFPB considers itself a data centric organization. According to the CFPB, the Bureau "is focused on data-driven decision making and the use of advanced analytics to inform supervision and enforcement activities…." You can no longer sit back and allow your regulator to analyze and tell your story.

Critical Question: Are you prepared to explain your lending data and any associated disparities? Without a review of your data, you are vulnerable to outside interpretations.
5. TRENDS: Insights, information, and research from the Bureau's various Markets teams, which regularly monitor financial markets to identify developments and trends that may pose risk to consumers, as well as other offices in the Bureau.
Additional TRUPOINT Insight: It is not enough to take a snapshot, you have to be aware of how both market and your financial institution's operating trends impact your risk profile. Risk Assessments, Audits, and Monitoring should be conducted on a regular basis with an intentional plan.

Critical Question: Are you running with or contrary to market trends? Are you prepared to explain your own operating trends?
If your answers to the questions above lead you to discover weaknesses and unknowns, you will likely want to allocate more time and resources towards Fair Lending in the coming year. Through publications like this Semi-Annual report, the regulators are providing some clarity to what they are looking for, before they show up on your door step. A little proactive attention will help ensure you are ready, should you pop up on the radar screen.
The right partner (with the right tools, resources and experts) can lighten the load and help keep you off the radar.
Access the entire CFPB's semi-annual report by clicking the icon below.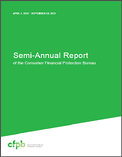 Topics: Fair Lending, Risk Management, Nrisk, Nfairlending, Product Insight, Risk & Compliance