Branch Closings - Who's Left Behind? CRA Dialogue Required!
Posted by
Andy Barksdale
on Aug 28, 2012 11:15:00 AM
Profitable revenue growth is top of mind for all banks in today's market where consumer preferences are rapidly changing. Many financial institutions are investing large amounts of time deciding what steps need to be taken to ensure long-term prosperity. One area of focus that continues to garner an endless amount of debate concerns optimizing the bank's branch network. It is common for Senior Management to examine branch profitability and review the impact of losing valuable customers (run-off). The bank should also consistently include include dialogue regarding the Community Reinvestment Act (CRA).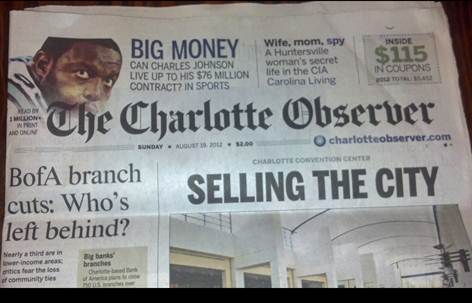 A recent Sunday morning headline from The Charlotte Observer's front page read, BofA branch cuts: Who's left behind? The article highlights how banks are reengineering their branch network. The Observer's article went on to discuss the fact that nearly a third of the branch cuts are in lower-income areas, and critics are claiming the cuts have a disproportionate impact on the poor. As you would expect, Bank of America responded by saying the closings will allow the bank to streamline expenses and better serve customers' changing banking habits. Again, branch optimization is one of the most important strategic elements to running a successful bank in today's market. Smart financial institutions know that an essential part of proactive branch network management must involve discussions regarding CRA (and how the associated ratings can impact the long-term plans of the bank).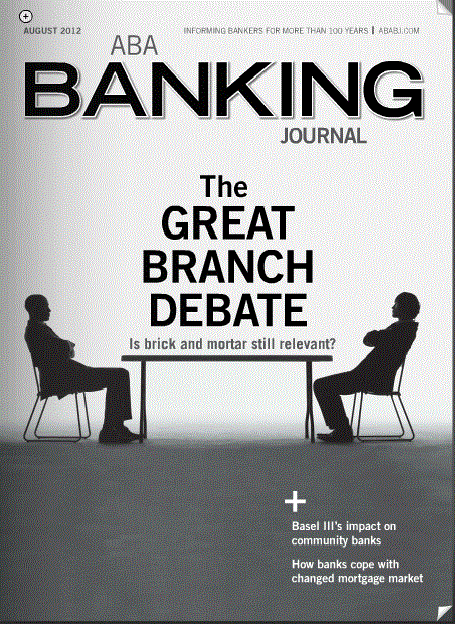 The current ABA Banking Journal's cover story "The Great Branch Debate" is directly related to this subject. The sub-header states, "As technology and customer expectations change, so does the outlook for bank branches." The article looks at various belief systems regarding the future of branch banking and the author concludes that "Almost no one believes that the traditional model will remain, and warn that those refusing to change will become the banks of the past." Within the Journal's story, Brett King, an author and founder of online bank Movenbank, offers the following stats (that clearly point to change):
In 1995, customers visited the branch an average of 28 times per year.
By 2010, that number had fallen to just over three times a year.
By contrast, customers use mobile banking an average of 20 times each month and internet banking seven to ten times per month.
Regardless of the exact statistics, we can all agree that there are shifting consumer preferences on how/where to do their banking. These changing preferences promote management to host strategic dialogue regardubg the branch/distribution network. In today's market, this dialogue often includes the possibility of consolidating branches. A regular analysis for optimizing branch/deistribution networks can be a proficient process with the right expertise on your side. The review can lead to smart strategic decisions that result in improved earnings. However, CRA can be a constraining factor when making decisions to consolidate or close branches.
The FDIC's CRA Service Test evaluates a bank's record of helping to meet the credit needs of its assessment areas. The FDIC evaluates the availability and effectiveness of a bank's systems for delivering banking services based on the following criteria:
Current distribution of branches (among low-, moderate-, middle-, and upper-income geographies).
The bank's record of opening and closing branches (particularly those serving low-or moderate-income geographies)
The availability of alternative systems for delivering services
Range of services tailored to meet the needs of the low-, moderate- and upper-income geographies
When examining the optimal distribution network, we recommend financial institutions consider various options (in addition to completely exiting a branch or market). For example, operating efficiencies can occur by moving from a stand-alone branch to an in-store branch. You can also consider a high-functionality ATM as an alternative. Regardless, banks should be proactive in thinking through the network delivery options which will help avoid having to respond to objections during the application process to close the site.
If branch closings make the most business sense…document the analyzed effect on the consumers. Include alternative services that exist from your bank and other surrounding institutions. It always helps to have thought through how your bank continues to service the low- and moderate-income.
The Bottom Line: Regardless of where your personal opinion sits regarding the future of branch networks, we all know that technology and consumer preferences are evolving. Therefore, a regular review of the bank's branch network is a critical part of today's successful community bank management. An optimized distribution network can make the bank stronger and healthier. To ensure that the optimization plans move forward as planned, it only makes sense that proactive CRA discussions are an integrated part of the review process.
Is your financial institution looking at branch optimization to improve profitability and prepare for the future? TRUPOINT Partners offers efficient and affordable services that allow financial institution executives to analyze and optimize branch networks. From custom Branch Optimization Consulting, CRA Reviews and GeoAnalysis we empower our partner banks to proceed with confidence.