5 Areas of Compliance Officer Stress - Can You Relate?
Posted by
Andy Barksdale
on Aug 14, 2012 11:45:00 AM
Last week, we spent an afternoon in Columbia with a group of South Carolina Compliance Officers. We reviewed an assortment of regulatory compliance issues with an inevitable deep dive on Fair Lending. In case you are wondering about the wall art in the pictures below, the meeting was held at the Grecian Gardens Restaurant where it is reported that the homemade Greek pizza is to die for.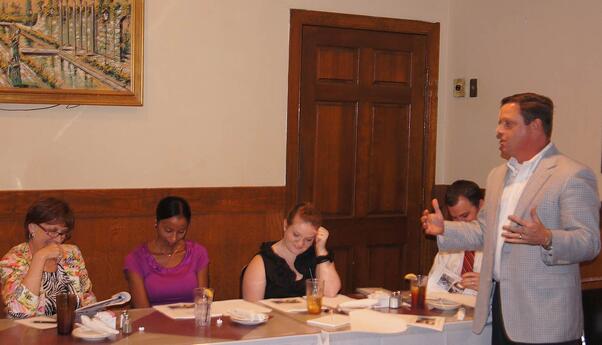 As the dog days of summer persist, we had a great opportunity to share an afternoon with Compliance Officers from throughout the Carolinas. We estimate that there was over 200 years of cumulative compliance experience in the room representing banks from $125 million to $50 billion in assets. While there was a broad range of banks in attendance, the large majority of representatives work with community banks under $1 billion.
As we prepared for an interactive discussion, the compliance officers shared their five biggest concerns that are causing stress as they head into the fall. This list below is not presented in any specific order:
Keeping Up with the Regulations (along with interpretations of the gray areas) – Managing and maintaining a strong compliance management program is taxing. Keeping up with the changes (UDAAP, HMDA Plus, Fair Lending, Flood, OFAC) can be confusing and exhausting.

UDAAP (Unfair, Deceptive, and Abusive Acts or Practices) – the definition (especially the abusive part) is not clearly defined and leaves compliance officers yearning for more specific guidance.

Changing Regulator Expectations – from exam-to-exam, regulator-to-regulator….there are different areas of focus. This can contribute to the "everything is an 'A' priority" mentality. One compliance officer stated that the "low tolerance levels for small issues creates anxiety up and down our bank."

Review and Monitoring - Knowing that there should be more active testing and monitoring for certain practices is stressful when you lack the time and resources to review.

Too Many "A" Priorities - One attendee simply inquired, "How can everything be an 'A' priority?"
The Bottom Line: The regulatory compliance demands on banks (especially the community banker) have become more complex. Bank compliance can be exhausting because there is no finish line and everything is an evolving work-in-progress. During the course of the afternoon, we discussed three ways to manage the stress associated with "everything is an A priority":
Maintain a Risk Based Approach: While the regulators may focus on apparently small things, the best approach remains a risk based approach to compliance. In general, it is the big things that garner the most attention. In other words, focus on the areas that contain the most risk for the financial institution (where volume and complexity exist).

Promote a Culture of Compliance: Foster a strong compliance culture at the bank through training and communication. "Compliance" with the regulations is not a department. Regulatory compliance is an attitudinal approach to business and is best supported with the right support from above.

Seek Valued Partnerships: Seek reliable partners and resources (like the ABA Compliance Network, Bankers Online and TRUPOINT Partners) for consultation. Bank Compliance should not be a solo event. There are experts that can help shed some light on the path.
To learn more about TRUPOINT Partners and its suite of compliance products and services, please visit one of the links below.